Have you ever wondered how to start a business?
If you have, perhaps you were stopped by the idea that businesses cost an average of $30,000 to start. (That stat found here.)
But is there a way to start a business that doesn't require so much money?
In fact, there is! And the good news is that we're talking about a significantly smaller number than $30,000.
You can start a business for less than $200.
Do I have your attention yet?
Let me give you a hint. This very blog is my business – and I started it for less than $150 earlier this year.(Yes, this blog is a business!)
Not only did I start it for a very low cost, but it started earning money right away. I have more than earned back my primary investment, too. Need proof? You can see my latest income report here.
But the best part isn't just the low startup cost.
The best part is that bloggingisn't a business that requires you to have a special diploma, a certification, or anything else.
Anyone can start a blog, and anyone can make money doing it.
For those of you who might not know, a blog is basically just a website. If you need a more extensive explanation, you'll want to read this post.
If you're not convinced that blogging is a viable business, think again. There are thousands of bloggers who make a full-time income by blogging alone. And some of them are making 6 figures monthly.
Seriously, this is a real business! (Some people look at me sideways when I talk about it, but that's their loss.)
Just like a software company sells things on their website, you can sell things on your blog.
Although most of it is virtual, you can sell physical products with your blog, too.
Want to know more about how to start a business for under $200? See this post about how to start your own blog.
Here are a few of the mainways to make money blogging:
Get paid to place ads on your site
Become an affiliate for the products you love and earn a commission when someone buys
Create and sell digital products like ebooks and courses
Collaborate with brands to promote products in the form of social media posts or written pieces
Basically, blogging is a huge opportunity for you (or anyone) to start a business.
But like with any other business, blogging does require work and persistence. It's not a magical overnight income stream.
But the potential is huge – you get what you give – and it's a great way to get paid to do something you love.
That's because when you start your own business in the blogging format, you can focus on anything.
Yes, you can make money off of your coffee addiction, your obsessive organizing, and your love for Star Wars.
Maybe you think I'm joking – but it's all true. If there is something that you just love, you can blog about it! Plus, you'll connect with other people who love the same things.
I chose to start a business that was about motherhood and blogging because that's what I love and know.
I feel that blogging is a really unique opportunity.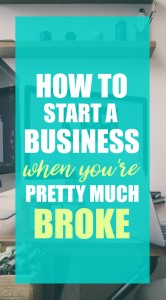 When you start a business like this one, there are some serious perks, including:
The ability to work from anywhere there's an internet connection. Travel as much as you want!
The ability to set your own schedule. Only work when you want to!
The ability to have complete control over every aspect of your business.
The ability to spend more time with family – or whatever else you value.
There is unlimited earning potential. Having a blog is not like having a job with a set salary or wage.
So, when you think about how to start a business knowing this information, do you still have some doubts?
No worries. I was doubtful, too!When I started, I doubted that I'd ever make a dime. I didn't necessarily think that all other bloggers were lying, but I just didn't understand how they were making money.
But it was intriguing and I kept going. Within a few months, I was making a couple hundred dollars here and there. Now I'm making enough to put a decent-sized dent in my pocket.
Doesn't that sound like a win-win?
Here's how to start a business yourself (with a blog):
Choose a specific topic (or 2-3 related topics) that you'll blog about.
Choose a domain name related to that topic (this will be where readers find you with a URL). Mine is busybloggingmom.com.
Check to see if your domain name is available, then purchaseit. This normally costs $10-20 depending on what you choose.
Choose a web hosting package to host your website. It's important that you own your own content, so choosing self-hosting is important. I recommend Siteground for hosting packages. You can find an entire tutorial dedicated to explaining all of this here.
Install WordPress – this is where you'll design your site and start adding content (like this blog post you're reading). Here's a tutorial for that.
Start driving traffic to your site with social media and other strategies. You'll find my favorite Pinterest strategy here.
Start using one of the monetization methods found in my article, "50 Different Ways to Make Money Blogging."
Visit Siteground Now
Exclusive 60% Discount on SiteGround Now!
As an affiliate of Siteground, my link will give you a 60% discount on the StartUp WordPress hosting plan if you sign up today. Cheers!
Visit Siteground Now
That's enough to get you started, but there's plenty more information that you need to know about how to start a business in the blogging world. Be sure to check out these other articles for more information:
Blogging for Beginners
Traffic-Driving Strategies
Monetization Strategies
Now that you know how to start a business for cheap, what are you waiting for?
Happy blogging.
Still confused about how to start a blog and make money doing it? I've created an eBook just for new bloggers. It will give you a comprehensive start. Take a look by clicking here!