This Guide is Outdated and Will be Updated Soon
Hello new bloggers + friends!
Do you know how to install WordPress, or was it done for you?
I was on Facebook the other day when I noticed the thread of a distressed newbie blogger. She had purchased a domain name and hosting package from Siteground, but was having trouble installing WordPress.
It reminded me of the time I that I bought a domain name and hosting package, then because I didn't know what to next, I abandoned the entire idea of having my own website.
Talk about a bummer!
I can't believe that I let that tiny bit of knowledge (or lack of) keep me from pushing forward!
That was several years ago now, but I wanted to say, "I get it!" I totally understand the confusion of web hosting, domain names, site builders, etc. There are still things I don't understand, but I wanted to share this super easy-to-follow tutorial on how to install WordPress with Siteground.
Siteground is the hosting company I use and recommend, and they make it super easy to install WordPress (which is where all of the magic happens).
Visit Siteground Now
Exclusive 60% Discount on SiteGround Now!
As an affiliate of Siteground, our link will give you a 60% discount on the StartUp WordPress hosting plan if you sign up today. Cheers!
Visit Siteground Now
But if for some reason you still need help, this tutorial is just for you!
This tutorial assumes you've already purchased hosting specifically through Siteground and already have a domain name with them.
I have a tutorial all about how to start a blog here, and it covers some of the same stuff, but this one is specifically on how to install WordPress.
You might need this tutorial if:
You purchased a domain name but didn't add a hosting package until later
You purchased a domain name and hosting package but haven't started building your site
You have multiple domain names and switched which ones are on active hosting packages
You just need help installing WordPress for any other reason!
Let's get started!
How to install WordPress with Siteground:
Step 1: Sign in to Siteground.
Duh! This may seem obvious, but I do have a few notes. Your sign-in information will be completely different than the sign-in info you use to access your site later. That's something I failed to understand when I was starting out. You'll use Siteground only to buy domain names, make changes to your hosting plan, etc. Your site will not be made or accessed here!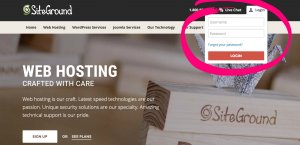 Step 2: Head over to your accounts.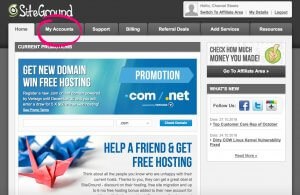 Step 3: Click "Manage Account" on the appropriate hosting account and domain name combo.
You should probably only have one domain name and one hosting package, unless you are like me and have issues. 😉 I have way too many hosting accounts and domain names. For this example, I'm using a random account with domain name "givemethatgrub.com." This is the page you'll see on this step (but you won't have a big list like me!):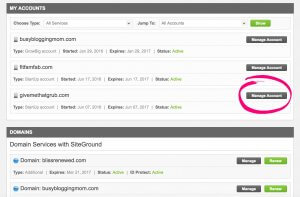 Step 4: Go to your cPanel.
This should be an orange button that takes you to your Control Panel for your hosting package. For me, there's a little popup that says basically, "Are you sure?"
Hit, "Access cPanel securely" and "proceed." (A lot can be done on your cPanel, so stay tuned for future tutorials.)

Step 5: Select the WordPress icon.
You'll come to a page that has a ton of stuff, but for now, scroll down to "AUTOINSTALLERS"/strong>and select the WordPress icon. The page will look like this: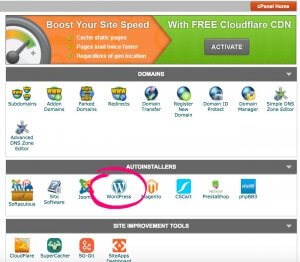 Step 6: Hit the install button.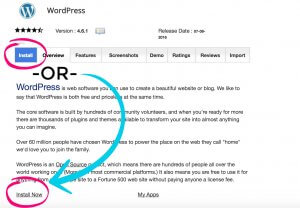 Step 7: Customize your settings. *Important*
You'll want to change your domain protocol to, "http://www.yourdomainname.com." HTTPS protocols are only for secure sites, which you probably don't have (you'd know if you did).
Then, make sure the correct domain is selected. This should be automatic. Leave the "In Directory" option blank.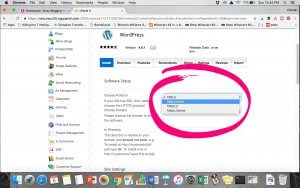 On that same page, scroll down and customize your Site Name and Site Description. These things will be used in searches, so don't leave them as-is.
Next, make sure you pick a different username and password! You'll use them each time you access your site and write blog posts. Write it down – you'll need it in a different step.
You can choose to change your email or leave it as is. I just left mine and forwarded all of my mail to a Gmail account I have for this blog. (I'm working on a tutorial on that, too.)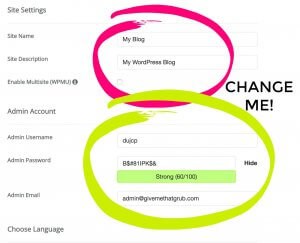 Step 8: Complete installation + go to admin panel.
You'll see a success page that looks like this: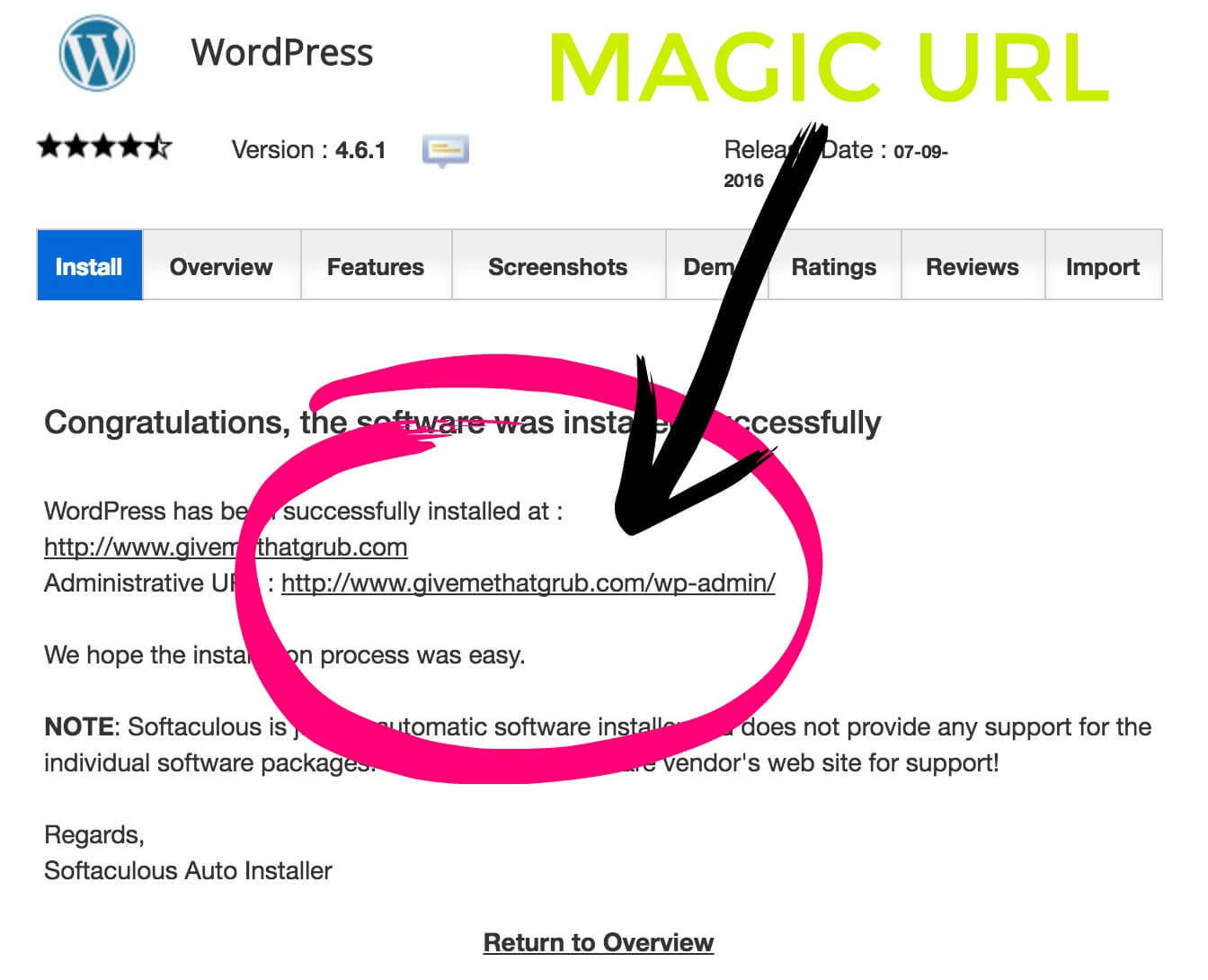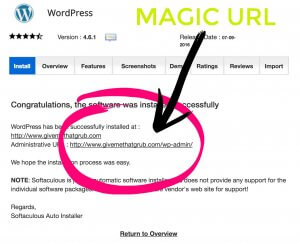 Copy and paste the "Administrative URL" – that's your magic URL that will allow you to start building your site. It's just your domain name plus "/wp-admin/" – save that baby. Bookmark it if you need to.
Step 9: Sign in to WordPress!
Take that URL you just copied and enter it into a new web page. Now enter in the username and password you created a few minutes ago. The page you'll sign into regularly should look something like this:
Congrats! You just learned how to install WordPress all on your own!
That's it!
Now you can start writing blog posts and designing your site! (Stay tuned for tutorials on how to use WordPress!)
A few tips for the next steps:
Play around with WordPress for awhile before advertising your site to anyone. Some bloggers suggest having ten blog posts written before going live. I say WHATEVER.
You can make DIY logos in Canva or Picmonkey (free!)
Consider making a mood board or style guide to decide what colors and attitude your blog should have before you go customizing it all. You can browse Pinterest with those keywords to get inspiration.
A good theme is important for customization – I use Genesis + Avada right now.
Don't go too crazy with plugins! If you are unfamiliar with that term (or other blogging terms), you can check out this post defining them.
Read this post about what to do and what to avoid in your first month blogging.
I hoped that helped! If you have any questions, please feel free to ask! I love helping new bloggers whenever possible!
Don't forget that if you haven't started a blog yet, this other tutorial is here to help!
Happy blogging,