Hey blogging friends and mamas!
Want more Twitter and Instagram followers? Of course you do!
Recently a lot of you have asked me how to get more sponsored work on Twitter (follow me!), how to gain more followers, and how to use it to get traffic to your blog. I recently came out with a post about how to do sponsored Tweets, but of course, the more followers you have, the more opportunities you'll see.
So today I'm going to reveal my secret weapon for big-time Twitter and Instagram growth: the Crowdfire app.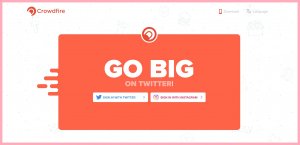 Note: The Crowdfire app actually works for a few different social media platforms, but it has been most valuable for me when connected to my Twitter and Instagram accounts.
So what is it?
The Crowdfire app basically exists to help you follow and unfollow people on social media quickly. (Can I get a heck yes for more Twitter and Instagram followers?)
We all know that a big part of gaining social media followers (on most platforms) is following others and interacting with them. But following tons of other people is kind of a big time-suck, and it also runs the risk of being pointless if you're not doing it properly.


Gaining meaningful followers on social media is all about following the right people.
You wouldn't want to just follow random people and hope that they are interested in what you have to say. That's a waste of time and having random followers means that you'll be less likely to have an engaged audience. But you do have to keep following new people in order to keep your brand exposed.
The Crowdfire App helps you do all of that and more.
(Guys, seriously, I'm not even an affiliate for them.)
Here's what you can do with Crowdfire:
Quickly unfollow people who aren't following you back
Follow relevant people based on who they are following ("Copy Followers")
Follow relevant people based on keywords or hashtags ("Keyword Follow")
Unfollow people who aren't active on social media (based on different periods of inactivity)
Whitelist or blacklist people
Check to see if a specific person (or account) is following another specific account
Post and schedule social media posts
Note: Due to the Terms and Conditions of various social media platforms, Instagram doesn't allow the "Copy Followers" feature.
How I Personally Use Crowdfire to Gain Twitter + Instagram Followers
I use Crowdfire to gain Twitter and Instagram followers, but they also have services for posting on those platforms (think scheduling).
My favorite tools are the "Non Followers" tool, "Copy Followers," and "Keyword Follow," because I can "spend" my follows on meaningful people and accounts easily and quickly.
Because it's best to keep the number of people you follow below the amount of people who are following you, the "Non Followers" tool is especially helpful in keeping your numbers low.
But I especially love the "Copy Followers" feature because I can choose someone else in my niche, and then follow their followers. Take a look at the example, where I follow my friend Kimi's followers. She is a mom blogger at The Mom Shopping Network, and we have a similar audience: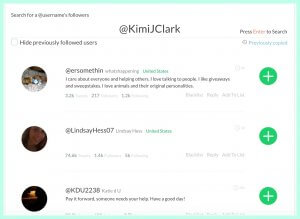 As you can see, this makes who I follow very targeted – and I can easily assume that if one of Kimi's followers follows me back, she or he is already interested in "mom" related stuff. (Now go follow Kimi!)
It's pretty much the same idea with the "Keyword Follow" feature. Instead of aimlessly following people, your efforts are as targeted as you want them to be.
A few tips for really making it count:
Give potential Twitter and Instagram followers a good chance to reciprocate. If you followed a bunch of people, give them a few days (if not a week) to follow you back before unfollowing them.
Use the time options to unfollow the oldest people first. This goes along with the first tip. You can choose to have the people you follow listed in order of how long ago you followed them.
Whitelist people you want to follow even if they aren't following you back. There are some accounts that I follow just for fun – even though they aren't following me back. But when you're quickly unfollowing people in Crowdfire, you run the risk of accidentally unfollowing certain accounts if they aren't Whitelisted.
Get super specific about who you follow. I used to follow people just by typing in keywords like "mom" and "blogger." But now I prefer to follow fans of others in my niche (even the competition!) because I know their readers are most likely to be interested in my account. If I'm not doing that, I get more specific with keywords or hashtags like, "SAHM" or "WAHM."
Use Crowdfire daily if you're using the free version. Every time you use it is an opportunity. (When I have the paid version, I just do a mass following/unfollowing once or twice per week.)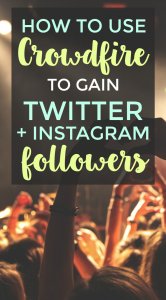 So how much is Crowdfire?
The Crowdfire has a free and paid version. I pay for a month of Crowdfire every now and then to accelerate growth, but I usually just use the free version. It allows me to connect one social media account (I usually keep it on Twitter), unfollow 100 people per day, and quickly follow 25 new people per day.
On the paid account (which is $9.99/month, they are actually running a $3.99 special right now), you can unfollow as many people as you want within your social media platform's rules (aka until you hit spam blocks). You also can use 2 social media accounts instead of just the one that the free account allows. Plus, you can quickly follow an unlimited amount of people (again, until you hit spam blocks from Instagram, Twitter, etc.). I wish I could afford every month cause it makes growing so FAST!
So that's it my friends! Now you know my secret to getting over 11,000 Twitter followers in about a year's time. 🙂
What's your favorite social media growth strategy?

If you're looking for a post about how to make money on Twitter, check this out.