Are you familiar with affiliate marketing?
Today, I'm bringing you a big affiliate marketing guide for newbies.
Because out of every type of monetization, I think affiliate marketing is my favorite!
This post contains affiliate links.
(If you are new to affiliate marketing, no worries! I'll cover it all in this post.)
I've felt a ton of pressure to do a lot of things and a lot of pressure to not do certain things in the blogging world. Monetization is a bit of a monster of a topic, but I think it's important to try it all and find what works best for you. Maybe you've felt some of the same pressures I have.
I've felt pressure to:
Create a course in order to make the big bucks
Pay big money for professional web design
Act like someone else online in order to stand out
Spend every moment of my day blogging so that I can grow faster
Focus on my email list and switch to ConvertKit
Compete with other bloggers in my niche
On the other hand, I've also felt pressure NOT to:
Monetize too early
Use ads on my site
Do sponsored work
Spend my time doing small tasks like participating in link parties
Write posts without SEO
Be confusing with my branding…etc, etc.
There are so many DO's and DONT's in the blogging world.
Honestly, it's exhausting!
For the longest time I planned on launching a big course and charging a pretty penny for it (to be like all the others) but I just couldn't do it. Why?
Because it doesn't feel right to me.
It doesn't feel like the right time. It doesn't feel right to charge so much for information I was able to find on my own (even if it's conveniently packaged). It doesn't feel right to do what everyone else is doing just because that's where they say the money is.
Maybe some day in the future I'll launch a course, but I'm finding more and more that I prefer affiliate marketing.
So this affiliate marketing guide is for those of you who just want to focus on your own blog and ignore all of those outside pressures.
Affiliate marketing is often my top earner, and as many of you know, bloggers are making a KILLING with it. We're talking about bloggers making 5 or even 6 figures MONTHLY due to their affiliate sales.
Now personally, I have only ever made 3 figures (that's in the hundreds, folks) monthly with affiliate marketing. But when you're a new blogger, that's a big deal!
However, it takes some time to figure out what works for your audience, and it takes some time to write quality posts that convert. Traffic is another big factor. But before we get into all of that, let's start this affiliate marketing guide off with a basic rundown.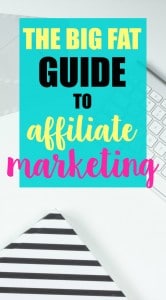 What is affiliate marketing?
Affiliate marketing is when one party refers a consumer to a certain company or product. If the consumer makes a purchase, the "middle man" earns a commission. Sometimes, they can earn just for getting the company a lead.
In the blogging world, you (the blogger) become the middle man.
You can recommend products or companies to your readers and earn.
How much can I earn with affiliate marketing?
The sky is truly the limit with affiliate marketing. Some companies pay you a percentage of the sales you make, and others pay flat rates. Most companies don't cap your earnings, meaning that there is no real limit to how much you earn. In fact, most companies offer bigger and bigger commissions for increasing your sales.
Affiliate marketing can earn you anywhere from a few cents per month, all the way to several thousands per month.
You can take a look at my last income report to see what a new blogger might make, and you can take a look at Michelle's income reports to see what it's like for a big-time blogger earning over $40k per month in affiliate sales.
Commissions can be small or they can be huge – earning you hundreds of dollars per sale. Your only true limit is yourself!
How do I get started with affiliate marketing?
Affiliate marketing opportunities can be found with almost every company out there. How you choose what to promote depends on your blog. You can promote any old thing you want, but you'll want to choose products or brands that are relevant to your readers. If you don't, you'll risk losing readers and aren't likely to see a lot of conversions. Affiliate marketing is a bit of an art, and a bit of a science if you ask me!
When you're good and ready to start affiliate marketing, you'll want to choose programs based on your audience.
So if you're a mom blogger (many of my readers are), you can try to promote things related to homemaking, parenting, education, etc. It's up to you!
Like I mentioned before, almost all major companies offer some sort of affiliate program or "influencer" program. If you love a company and want to share it with you're readers, find out if they have an affiliate program by visiting their site. Most of the time, you'll find an affiliate opportunity in the footer or in the sitemap.
You can also find a bunch of affiliate programs within websites like Share-A-Sale and CJ.com. These two sites house + manage the affiliate programs of thousands of companies, making it easier for you to keep track of commissions coming from many different companies.
I personally use and recommend these affiliate programs:
How do I actually start getting affiliate sales?
There are various ways to start getting affiliate sales with your blog. As you have already seen in this post, you can use affiliate links within any post. I mention a company or product that I use or recommend using my special affiliate links. You can also use affiliate links on social media.
These links (found within your affiliate program) will keep track of whether or not a customer purchases something using something called cookies.
The longer the "length" of a cookie, the better.
Say a customer uses your link to look at a product online. The cookie follows along (think Hansel and Gretel). Now say that the customer decides not to buy because they're waiting on their next paycheck – depending on the length of the cookies in your affiliate program, you may or may not receive a commission for that purchase. A longer cookie is in your best interest.
If a cookie lasts only 24 hours, you will only be credited for purchases made with your link within 24 hours of the click. Most cookies, however, last 7-90 days. That means that even if a customer decided to "come back later," you still have a chance to earn.
The most effective way to see sales (and I think most bloggers would agree) is with tutorials.
Your links are most likely to convert when you show your readers how to use a certain product, rather than only telling them how good it is. The best part is that when you create a tutorial, you can use it over and over again, and you can earn steadily.
For example, my tutorial about how to install WordPress with Siteground will always be featured on my blog. Since adding it to my blog, I've started seeing a few more sales. I put in the work once, and can keep using it over and over. Because the post is helpful and I actually use Siteground, it's easy to promote.
What else do I need to know about affiliate marketing?
Disclosure
When you use affiliate links on your blog, you must disclose the links to your readers in every post where they are used. This is a federal law (US), although it is a bit ambiguous. The FTC guidelines, which can be found here, don't specify exactly how disclosures should be made, only that they must be "clear" to the reader. They are just there so that people don't for some reason feel "tricked" into buying something.
Most bloggers feature a page that has all legal information, including a privacy policy and a disclosure. Then on top of that, each post containing affiliate links will have a sentence that says something like, "This post contains affiliate links – if you choose to make a purchase using my links, I may receive a commission." However, there is no real rule about wording. See my disclosure above.
Time
It takes time to start seeing affiliate sales because you do need traffic to your site. If no one is reading your posts, they aren't seeing your links, either! You can opt to use affiliate links on your social media channels, but you still have to disclose. Since tutorials are most likely to convert, I normally direct people to posts that feature affiliate links instead of sending them right to the landing page of a product. Sometimes it works, sometimes it doesn't!
You can read more about driving traffic to your site with these posts:
Tips for getting started with affiliate marketing:
Start with one or two programs at a time. Don't go overboard! You need to test various things and see how your audience reacts.
Don't hesitate to switch things up. Try A/B testing to compare performance of different sales and products, and don't promote something that your readers aren't interested in.
Start with things you love in real life. If you can give an honest opinion, you'll readers will be grateful.
Don't put too much pressure on it in the first months. Start out by focusing on creating super helpful content and driving traffic to your site.
Go back through your old posts and add affiliate links if relevant. Use your top performing posts as a starting point.
That's all for now folks!
What's your favorite affiliate program?