Ladies and gents, this is my blog income report for November 2016!
I'm super excited to share this with you because November 2016 has been an amazing month for my little blog.
It's been my best month EVER in terms of traffic and income.
To give you a little back story, I was a stay at home mom desperate to contribute to my family financially just over a year ago. I found blogging and got started with the hopes that I'd be able to help out – even if it was just a little. (You can start your own blog with the help of this post!)
I learned a lot in my first year, but I didn't start THIS blog until April 2016. Somewhere along the way, I got discouraged and quit blogging for a whole month. I also had several weeks where I didn't work on my blog at all. I was pretty inconsistent.
I'm telling you this to give you an idea of how long this blog has been live (6 months) and how long it's taken me to get to this point.
Now let me tell you why I share these income reports:
To stay accountable for my own goals.
To help other moms and blogger see that it really is possible to make money blogging!
To show you how diversified my income is – it's a lot of things adding up.
To give you the nitty-gritty details and inspire you!
I don't share these to brag. I personally LOVE reading income reports – they keep me inspired continuously. People are making money by blogging in so many different ways, and I love to learn from each of them!
By now I have tried a lot of things, and I think I've finally hit a sweet spot. That's because my page views and income have been increasing pretty steadily ever since my return to blogging three months ago.
I'm excited to share what has worked for me with you! Let's take a look at the numbers.
Here's what my page views have been doing this month: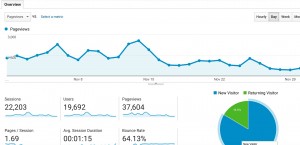 You can see that I started the month a little higher and mid-month that leveled off. Either way, my average daily page views was up to 1,253 compared to last month's average of 602…which means that I doubled my traffic! I'm pretty excited because this is the highest month I've had on this blog.
For a few days I thought it MUST be wrong and that I possibly installed my analytics wrong (I've done it before) but I searched for duplicate tracking codes on my site and didn't find any. So it's all good! I'm aiming for 50,000 page views in December!
Here's how I'm doing with my social media growth:
Pinterest followers – 13,500
Twitter followers – 13,100
Facebook fans – 565
Instagram followers – 736
I've also been playing with a few new social media platforms this month, and I'm seeing referrals from them coming in. Stay tuned because if I "hack" these other platforms, I'll definitely be writing posts about them.
This month's most popular posts were:
As you can see, those top two posts did super well and then there was a significant drop to the third-most popular post. My readers love to save and earn money!
Here's what my income looked like:
Note: Right now I'm reporting money earned, not necessarily paid. That means that I've done the work, but because sometimes payment takes awhile to process, I don't necessarily have this money in my bank account yet.
Amazon – $69.76- This is my ad revenue and affiliate earnings combined. If you'd like to learn about Amazon CPM ads, here's a tutorial.
Fresh Press Media – $8 – I did a few sponsored Tweets with them.
IZEA – $10 – Mostly sponsored Tweets. I have a tutorial about making money with Tweets here. (If you sign up for IZEA, be sure to sign up as a CREATOR.)
Activate – $50 – This is from a sponsored post.
BlogHer – $75 – This is from a series of sponsored Tweets.
SiteGround – $525 – This is mostly from my tutorial teaching others how to start a blog.
Media.net – $8.28 – Ad revenue from by "backup" ad codes.
InfoLinks – $0.04 – Another backup ad network. I have barely any of these left on the site.
Book Sales – $50.40 – This is from sales of my ebook designed for new bloggers.
iBotta – $16.25 – This is a referral hustle. I tell people about the grocery store app I use to earn cash back.
Inbox Dollars – $21.76 – This is a legitimate survey site I use to make money every month.
Share A Sale – $6.17 – This is an affiliate site I use. It houses tons of affiliate programs. If you're not sure what affiliate marketing is, be sure to check out this post.
Total: $840.66 <<Highest Month Yet>>
Want to start your own blog? Let me take out some of the guesswork! Start with this tutorial.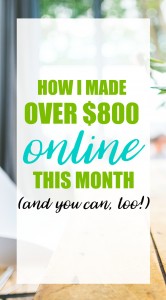 Goals for December:
I'll be honest – I'm already thinking about 2017 and it's making it hard to focus on finishing out the year with a bang! But my goals are pretty much the same as last month, only now I'm getting more specific. My general goals have always just been, "make more than last month," or "get more page views than last month," but I think that it's time to get serious again. Anyway, here are my big goals for the month:
Break 50,000 page views for the month
Work on my email list. I didn't even start collecting emails until a few months ago, and I've been twiddling my thumbs a bit because I didn't love my email marketing provider. Now I'm testing MailerLite and I'm hoping to get break 500 subscribers (I know, right?) by January 1st.
Make more money than I did last month. Honestly, I'm a bit nervous about this one!
Break 15,000 followers on Pinterest and on Twitter. Pinterest is really important to me because it sends me so much traffic, and Twitter is important to me because I do some sponsored work there.
Get to 1,000 Instagram followers. Before I quit blogging in July, I had almost 1500 followers, but I deleted that account because I'm dumb. Ha. Now I'm working on it again.
Get to 1,000 Facebook followers. I still don't love FB but I think that I need to keep working on it for future opportunities.
That's all for now! Here's to finishing off the year with a BANG!