It's once again the time of year where we all start thinking about the holidays. For me, the planning starts as early as October.
I love to try to keep my holiday savings recorded so that I can look back at previous years and try to "beat" my own numbers year to year.
Last year, we spent only about $200 on Christmas with three kids and a ton of loved ones.
Note: This post contains affiliate/referral links.
Part of that is that we aren't extremely materialistic people, but it's also simply that we don't fall prey to the societal pressures to spend.
I personally feel like people lose their minds at Christmastime, and I make a personal goal not to do the same. If I'm being really honest, I find myself being a little disgusted at the massive amount of mindless spending that happens around this time every year.
The more we have, the more we take for granted. The more gifts children receive, the less impressed they are with each new one. We are less grateful when we have more – because it becomes "no big deal."
But you may not be like me.
Maybe the only reason you want to be frugal and maximize your holiday savings is because you don't have the option to do anything else. If that's what brought you here, that's totally okay! I'm glad to have you. 🙂
Okay, enough preaching.
Let me tell you how to maximize your holiday savings this year.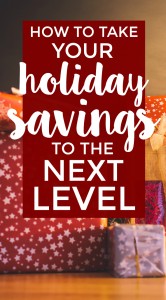 This is a multi-faceted strategy, so if you want to realllly take your holiday savings to the next level, be sure to look into each strategy! 🙂
Firstly, you can maximize your holiday savings by taking a look at what you already have.
I'm not saying you have to regift that ugly scarf you got last year. However, you can use what you already have to:
Make cards
Bake pies, cookies, etc.
Make mason jar gifts
Wrap gifts
Make wall art
Make gift tags
The list is as limited as your imagination!
If you've exhausted your creativity and can't avoid shopping, there are many things you can do to save and earn, too.
These things include:
Use Inbox Dollars to start earning a little extra cash online. I have an entire post dedicated to doing this here. Start now and cash out by December to have extra spending money!
Use the iBotta app when you shop. Unlock the rebates the app features and earn money that you can then use like cash. Tip: Combine the rebates with store coupons and see BIG savings! You can also refer others to iBotta and earn $5 per sign up! Right now if you join iBotta, you immediate get a $10 credit to your account!
Use Ebates when you shop. This site will give you cash back on your purchases at tons of major stores, online and in-store. Earn a percentage of what you spend, then turn around and spend your earnings on other gifts! Ebates is also offering a $10 sign-up reward right now. (They also have a referral program, so there's another way to earn.)
Use Giving Assistant when you shop online. This site works similarly to Ebates. There are over 1,800 stores to shop from. What makes it unique is that you can choose to donate a portion of your earnings to charities. You can give all or nothing to the charity of your choice! It's a cool way to earn and give at the same time.
Use Zulily to take care of your purchases early, make referrals, and find unique gifts. I'm a big fan of avoiding the crowds at Christmastime, so I love finding holiday savings online. Zulily is my absolute favorite place for this.
Invest in Amazon Prime and check Amazon regularly for great daily deals. We just got Amazon Prime this year and it has been wonderful to get free + fast shipping (it really adds up!).
Sign up for store rewards cards to get points or an extra percentage off.
Download the apps for the stores you shop at. They usually have the best coupons. I love that when I shop at Joann's Fabrics, I can get %40-60 off almost every time!
Shop on Etsy or Amazon Handmade for special, unique gifts that are often much better priced than at major stores. If you're looking for cute home-decor gifts, cards, jewelry, clothing, and more, be sure to check Etsy first! (Here are 20 Artisan Gift Ideas from Amazon.)
Start stocking up on ingredients for your special meals and baked goods now. Scour the papers for coupons and sales regularly so that by the time Thanksgiving and Christmas hit, you're ready to roll without a big, expensive shopping spree!
Overall, your biggest weapon when it comes to holiday savings is PLANNING.
Make a list of the things you need or plan to buy for loved ones, and stick to that list. The more you get done earlier, the less likely you will be to make impulse or rushed purchases. Cross things off of your list early, and then you can avoid the rush and pressure of Christmastime spending. 🙂
Secondly, keep it practical.
Kids don't need much. I like the saying about gift giving that goes, "Something they need, something they want, something to wear, and something to read." Kids don't need 20 different gifts – especially if they are being showered by many people in a large family.
For adults, homemade gifts are well-received in our family, especially when they are edible. 🙂
Otherwise, think about things that loved ones need or have specifically said that they want. If you consider the person you're buying for, make sure they will actually like/want/use the item you are purchasing.
Another way to make your holiday savings go a little further is to make your own Christmas list super practical. When people ask me what I want for Christmas, I always fill my list with things for my daughter or our home. Diapers, baby wipes, and socks aren't unheard of on my list!
Third, set a budget.
Sometimes a budget is set for you, but if you have extra money, that doesn't mean you should spend it. Set a reasonable budget and stick to it. Again, the sooner you get your shopping done, the more likely you are to stick to that budget!
Fourth, start a side-hustle dedicated to earning for holiday spending.
My family finds, cuts, chops, and sells firewood this time of year. About every weekend from November to February, you'll find us in the woods working. This side hustle pays for our holiday spending, warms our home, and allows us to spend quality time together. There are many side hustles you can do, but I like this one because the whole family is usually involved. Here are some other side hustles to consider:
Getting a seasonal job for a few hours per week (some even hire you to work from home, like Amazon does)
Picking up short-term labor jobs on Craigslist or other job boards (think pumpkin patches, Christmas tree stands, etc.)
Sell homemade goods at local holiday bazaars
Do some freelance writing or Virtual Assistant jobs
Hows that for holiday savings?
Happy saving…and happy holidays, too!