Psst! If you're new here, this is blog is where I share how I'm making money online. You can start your own money-making blog with the help of this post.
*This post contains affiliate links.
If you're like me, you're always working to find new ways to make money blogging.
Sometimes you may be looking for new ways to improve your current revenue streams by tweaking existing strategies, and other times you may find yourself looking for brand new ways to monetize.
Wherever you are on your blogging journey, know this: we all want to make money on our blogs.
There's no shame in that!
When I started blogging, I was motivated by the idea of learning to make money online. I was a stay-at-home mom that was desperate to help her family stay afloat financially.
As I write this today, I have been blogging for over a year and have learned to make several hundred dollars per month just by blogging.
I have found out what works (like my Pinterest strategy) and what doesn't, and I've made it my mission to share that with other bloggers.
I have made plenty of mistakes learning how to make money blogging, and now I've finally established a good understanding of the various ways to make money online.
You're here because you want to know how (or how else) you can make money on your own blog. If you're new to this blogging world, let me begin by explaining the basics of how to monetize a blog. If you're a veteran blogger, scroll on down!
Types of Ways to Make Money Blogging
Being an affiliate – you promote a company, their products, or their sales. If you make a sale or create a lead, you receive some sort of commission. Most often, you will see affiliate monetization in the form of links or banner ads. Sometimes you'll see them in blog posts, other times you'll see them in emails or on social media. The sky is the limit here!
Making referrals – this is a little bit different than an affiliate program but has the same idea. You refer others to a company, and you can receive company credit or cash in return. Normally there is a flat rate for earning referrals, and normally anyone (blogger or not) can participate in referral programs. There are usually not any applications to participate, and they are usually exempt from taxes.
Ad networks and other ads – there are many types of ads and many ways to earn money by displaying them on your site. Some are served by ad networks, and some are served by individual companies. Money can be earned by an ad's impressions, clicks, commissions, and more. Ad revenue is usually highly dependent on page views.
Sponsored work – most often, sponsored opportunities can be found on influencer networks. Other times, individual companies may be contacted (or they may contact you) regarding specific projects. A company and a blogger (the influencer) agrees to a specific collaboration in which the blogger promotes the company, a product, or a sale. The blogger shares information with his or her readership or social media following in any number of ways.
Product sales – many bloggers make money by creating and selling their own ebooks, courses, webinars, printables, photography, physical products, and more. I did this with my ebook, "Bold Beginnings."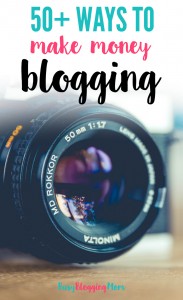 So now that you understand the basic ways to make money blogging, here are more specific places to find those things:
Affiliate Programs + Networks
Share-A-Sale (network) which includes many programs, such as:
Amazon
Etsy
Creative Market – which showcases many graphic design products, including fonts, backgrounds, stock images, etc.
Commission Junction (network) that includes affiliate programs such as:
Affiliaxe
AvantLink
Avantgate
ClickBank
Link Share
NeverBlue
Referral Programs
Zulily (also has affiliate) – $15/referral + commission if you're an affiliate
Ibotta – $5 bonus for each new referral, plus $10 just for signing up
Inbox Dollars – you earn percentage of the money your referrals make
Ebates – $25 per referral plus you get $10 for signing up
Book of the Month – Free books! Yey!
Giving Assistant – you earn a percentage of what your referrals make, like with Inbox Dollars
BoardBooster – $5 per referral
Ad Networks
Media.net (I have used this one.)
InfoLinks (I have used this one.)
Adsense (I have used this one.)
VigLinks
Amazon
CPM (I have used this one.)
Adsterra Network
AdBlade
Revenue Hits
Media Nexus
Conversant
RevContent
Influencer Networks
IZEA – great for sponsored Tweets & blog posts, plus they have a referral program
Find Your Influence – I've done a sponsored Tweet or two with them
Activate by Bloglovin' – Good for sponsored posts + Tweets
Socialix – Mostly sponsored blog posts
TapInfluence – Mostly sponsored blog posts
Linqia – I'm signed up with them but have never seen any opportunities
BlogHer – Popular for blog posts + sponsored Tweets
AcornInfluence – Has high page view requirements
BrandBacker – Usually pays in product
Collective Bias
Pollinate Media
Clever Girls Collective
Mom Spark Media – I did one blog post for them and received a gift card as payment
Federated Media
Obviously, there are many more ways (and places) to make money blogging. These are just some that I have tried or have researched.
Note: I believe that traffic is important to successful blogging. See how I bring traffic to my blog in my post, "21 Different Ways to Increase Page Views Quickly" to give help yourself a boost!
What are your favorite ways to make money blogging?