Earlier this week, a newer blogger asked me how to make money as an Amazon affiliate.
Note: This post contains affiliate links.
It reminded me that about a year and a half ago, I was in the same situation. I knew people were making money by blogging, but I didn't really know how to make it happen for myself. There was so much to learn, so much information to get through. (If you're new to blogging, this tutorial will help you start your own blog. Hurry, web hosting packages with Siteground are up to 60% off right now!)
Learning how to make money blogging is still something that I work on every day.
That's because even though I understand how other people are making money blogging, I'm now in a phase of growth and hard work. (I made over $800 on this blog last month! Read my income report here.) The learning won't ever end, but now I have a good grasp on what it'll take to get where I want to be. I have to remind myself that my audience may or may not still be in that overwhelming learning phase!
Anyway, as you might have seen, I wrote about how to use Amazon CPM ads on your site a few days ago. But I wanted to back up a little for those of you who are either completely new associates or haven't gotten started with Amazon yet.
So today I'm going to focus on how to make money as an Amazon Associate.
If you're not familiar with affiliate marketing, I'll give you a quick explanation. In affiliate marketing, the blogger is the middle-man. You tell people about products or brands with unique links, and if someone makes a purchase using your links, you receive a commission. I have a post dedicated to explaining affiliate marketing here.
You help spread the word and make sales to earn money.
Now, there are TONS of affiliate programs out there (most brands have one), but Amazon is extra special. It's special because you can link to almost any product out there. If it's on Amazon, you can sell it. That means that:
A book review blogger can link to all of the books she/he wants.
A food blogger can link to kitchen gadgets and even pantry items.
A craft blogger can link to fabrics, scrapbooking supples, glue guns, etc.
A music blogger can link to music downloads, vinyls, etc.
The list is really endless!
Amazon is super popular because it can be used in many different ways and for many different niches. No matter what you blog about, there's probably some way you can make money with Amazon Associates (that's the official program name).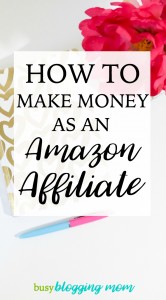 By now you're probably wondering exactly how to make money as an Amazon affiliate. There are many ways:
1. Link to products (or pages) within your posts.
If you're writing a tutorial (how-to), you have a prime opportunity to make money by linking to an Amazon product. Let's say I'm teaching my audience how to take indoor photography that has faux natural lighting. I might link to a light box, Lightroom for editing, or the camera or lens I suggest using. Tutorials usually perform the best because your audience will not just be purchasing a product, they will be purchasing something that they now know how to use with your help. They trust your judgement and advice if they are a regular reader. You can also mention relevant products or pages in non-tutorial posts to try to sell Amazon products.
2. Put an Amazon store on your site.
I'm currently testing this since it's the holiday season – but I'm not sure that I have the right niche for it. You can see my shop here. Since most of what I write about is blogging, I don't sell a lot of physical products. If I do, it's normally photography-related or books of some sort. You might do better with this if your niche is a little different and requires more physical products (fashion, beauty, DIY, food, etc.).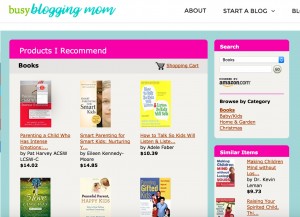 You can set up your shop to be targeted to your readers, choosing categories and keywords that are relevant to them. I currently feature books on parenting or blogging, but I'll be playing around with the store more as I'm focusing on how to make money with affiliate marketing a little more now.
3. Display specific or recommended products in your posts.
These are called Native Shopping Ads. You can display product recommendations in posts or on any page. When I use these, I either choose specific products to display or choose relevant categories to display. Here's an example: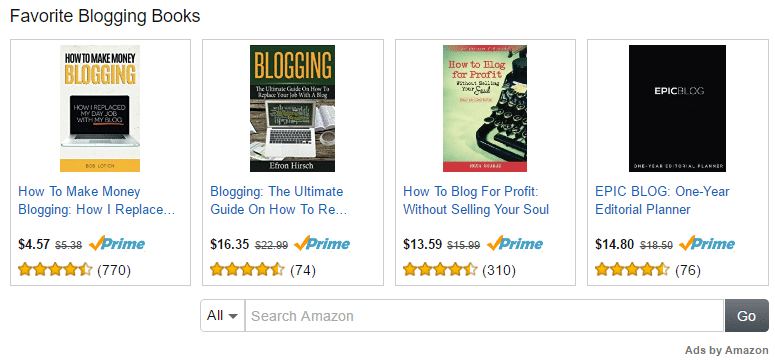 4. Put Amazon banners on your site.
You can place category-specific banners in your sidebar, footer, header, etc. Choose from a variety of sizes and just "set and forget." These banners are usually not links to individual products but instead, usually link to category pages. Here's an example of a very general banner:


5. Add a mobile popup.
I haven't done this yet, and I may never, but it's an option. You can choose to have Amazon popups, complete with product reviews and quick-buy options on your mobile site. When combined with the Amazon app, this makes purchases quick and easy for the reader.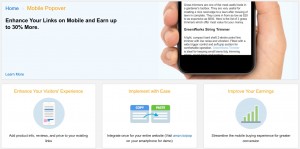 That's the gist of it!
There are other ways to sell, but now you know the basics of how to make money with Amazon.
Here are a few important things to know:
If you're including affiliate links on your site, you need a disclosure page that lets readers know. The FTC (Federal Trade Commission) isn't super clear on how to do this, but you must make it clear to your readers that you are selling something. You can read my legal page here if you need an example.
You must also disclose in each post and on each page that contains affiliate links. Again, it's a bit unclear how bloggers are supposed to do this, but you have to tell your readers that you are including those links. I write a little blurb in each post, and I've added a disclosure widget in my sidebar. If you want to try to decipher it for yourself, here's a link to the FTC's guidelines.
Amazon has it's own requirements for disclosing. You must have additional disclosures for using their affiliate program (instead of a general disclosure for all affiliate links). This post has some great info on that.
Here are a few other great affiliate programs to try:
That's it! Have you gotten started with Amazon Associates yet? If not, click here to get started!