Three years ago, I didn't really know what a blog was.
I was entirely clueless. Maybe you're here now because you found yourself thinking, "What is a blog?" Maybe you found this article after typing in those exact words in Google.
Been there, done that, my friend!
A few years ago, I'd lumped everything I'd seen on the internet into one big category: websites.
I thought that a blog was just a website. Sometimes they might be an online journal. But it was all just a website.
I didn't understand that blogs weren't usually things run by large companies, but individuals. I didn't realize that literally anyone could have a blog.
What I definitely didn't know was that blogging could make you money.
Needless to say, I didn't catch on very quickly. When I started my own free blog in late 2014, I really just used it as a journal. I knew that my words would be public, but I didn't understand how or why people were blogging other than for fun.
I'd eventually abandon that first little blog because I just didn't see the point. Barely anyone was seeing my posts anyway.
Fast-forward to mid-2015, and I'm on Pinterest researching ways to make money online. I'm a stay-at-home mom trying to earn a little money to help me stay home a little longer.
Suddenly I'm seeing all of these things called, "income reports." They're all written by bloggers. Not big companies, but individuals. A lot of them are moms, just like me.
Come to find out, people are making anywhere from several hundred dollars per month to several thousand. Some bloggers are even making 5 figures monthly.
Wait.
You're telling me that blogging is a business?
No freakin' way.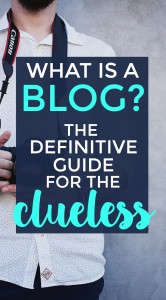 As soon as I read my first income report, I was hooked. I wanted in on that.
I'd always loved to write, but being the next great American novelist seemed a bit out of my realm. Bloggers who were reporting their income gave me new hope. I could write about whatever I felt like and make money doing it?
Me, a little stay-at-home mom?
You better believe I researched it more and got started right away.
I may or may not have searched, "What is a blog?" on Google, Yahoo, Pinterest, and about 10 other search engines.
Now, I can't believe I didn't start blogging sooner.
So what is a blog then?
A blog is:
Something that allows me total creative freedom
Something that helps me earn money from home
Something that I can work on whenever I want, as much as I choose
Something that allows me to combine multiple areas of interest
Something that gives me purpose and financial hope as a stay-at-home mom
Those are things that my blog is for me. They can be that for you too. But there's no perfect way to define a blog. People use them very differently.
A blog can be:
An online journal, used to express yourself
A business
A creative outlet
A place to meet others and network
A big learning experience
A revenue stream
A big responsibility, or something you do just for fun
Full of long articles, or consisting of very few words
Something that anyone can do!
My followers know that I truly believe that blogging is something that anyone can do.
You will see bloggers of all kinds. Some blogs are just in existence to provide increased exposure for other businesses, and some bloggers and businesses in themselves.
On my blog, I choose to write long posts based loosely on a few topics. They are motherhood, homemaking, making money online, and frugal living.
I love to share my blogging journey with others. My audience is primarily other moms and other bloggers. That's just me, in my little blogging world.
But if you decide to blog, you can write about anything. That's the magic of it all!
Love to bake? Take pictures? Hunt? Hike? Travel? You can blog about it AND make money doing so.
So, what is a blog, technically? How would I sum up the word "blog"? (This is a tough one…)
A blog is a website that offers the owners creative freedom to do whatever they want!
If you want to get technical, what is now normally just called a "blog" is actually short for "weblog." This is the original term for these things you see all over the internet.
You know the saying, "There's an app for that"? Well, the same thing goes for blogs. There's a blog for that, too.
From my super extensive research on blogging, I can tell you that I am pretty late to the blogging game.
But blogging isn't dead.
Had I gotten started 10 years ago, I'd be on fire right now. (But considering that I was only 15 years old then, I'm gonna give myself a break here.)
But I have still managed to make $200-$500 per month on my blog even as a new blogger.
So if your next question was, "Can you really make money blogging?" the answer is: OH YEAH, BABY.
(In fact, here are over 50 ways to do it!)
If you are like me and are intrigued by this, do yourself a favor and go read some income reports on Pinterest. Yeah, this whole blogging thing is pretty cool.
Now you might be asking, "So, what do I need if I want to become a blogger?"
I'll be straight up with you. It's not a cake walk. There was a hard learning curve for me.
To be a blogger, you need:
Persistence
Passion, for anything
A willingness to learn
To be okay with using social media
A tiny bit of startup money
There's really no catch here. The average startup cost of a brick-and-mortar business is $30,000. This blogging business costs about $120 per year to keep up. That sounds like a big fat opportunity to me!
And as far as blogging for fun or as a hobby goes, that's not bad for a year worth of fun. 🙂 On to the next question that I'm certain you have…
So, how do bloggers make money?
The sky is the limit!
As a blogger, you can…
Create and sell your own products.
Put ads on your site and get paid just to leave them there.
Become an affiliate for almost any company you want.
Sell services (such as Virtual Assistant services)
Make referrals for certain products & companies and get paid when someone buys or signs up.
Post on social media and get paid for it
Write blog posts that are sponsored by other businesses.
How much money you make is up to you – and how you make it is, too.
I was amazed to see that after I'd been blogging for awhile, I made the most money in the month I'd spent the least amount of time on my blog.
Some bloggers make 5 figures monthly, others make a few bucks here and there. Some are quite happy being somewhere in the middle.
So, what do I need to do if I'm thinking about starting my own blog?
First, you're definitely going to want to start following me on social media or by signing up for my email newsletters. I am constantly sharing new blogging tips + tutorials.
Second, you'll want to read this tutorial telling you specifically how to start a blog in just a few minutes.
Third, you'll want to check out my ebook to get you started with a bang!
Happy blogging!