Hi blogging friends and mamas!
Today I bring you my first income report since returning to the blogging scene after a month of rest back in July/August. I started doing this income reports when I started this blog in April or so, and since this is my first full month back, I thought I'd start doing them again. Note: This post contains affiliate links.
I returned to blogging sometime in September, and because my whole site was down before then, my income and page views have suffered as I try to get more content up and try to regain SEO mojo. Otherwise, things seem to be picking up and I'm excited to share it all with you again!
If you're new here, this blog is where I share how I've made money blogging, and how you can do it, too! Click here to see a tutorial teaching you how to start your own blog.
Here's why I share my blogging income publicly:
I love to share my humble income reports with you so that you can see some realistic numbers for relatively new bloggers. While it's motivating to see giant 5 and 6-figure income reports, I know my readers like to know how people get started on a more realistic level.
I love to stay accountable for setting my sights higher by sharing things with you. I was successful in increasing my earnings month over month before, and I hope to do it again!
I share the exact details of how and where I'm making money with my blog – no vague descriptions – just the truth!
Here's what my traffic looked like this month: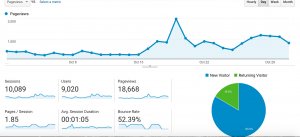 Not bad considering that I just started to re-circulate my pins and get active on social media again! Next month I'll aim for more, duh!
These were the most popular posts on the blog this month:
50 Little Ways to Live Frugally – 6,958 page views
21 Effective Ways to Increase Page Views – 4,261 page views
50 Different Ways to Make Money Blogging – 936 page views
As you can see, a couple of main posts drive the biggest chunk of traffic! I think that's true for most bloggers, but the posts that are the most popular always surprise me! My frugal-living post was my most popular when I had it on my other blog, too! If only blogging articles were so popular. 😉
Here's how I made money this month:
Book sales – $24 – Selling my ebook that helps new bloggers jump in quickly. You can find out more on this page.
Siteground Affiliate Sales – $150 – Helping people start a blog with this tutorial.
IZEA – $11.35 – This is an influencer network where I've found a lot of sponsored work in the past. This month, I did a few sponsored Tweets for various companies.
Amazon
– $ 30.74 – I am a part of the Amazon Affiliate program, but I also recently implemented Amazon CPM ads. I'm making a steady $1+ per day from the ads, so that's nice! It's more than what I've earned with other ad networks.
Fresh Press Media – $7 – This is another influencer network where I sometimes find work. I did a Pin and a Tweet for them.
Inbox Dollars – $12.48 – This is the consumer survey site I use. I cashed out earlier in the month and bought myself a pair of jeans with the money, so this number reflects what I've made since. 🙂 There's a tutorial on how to use Inbox Dollars here.
iBotta – $21.25 – This is the beloved shopping app that earns me cash back when I shop. I have only ever used it for groceries, but so far I've been able to make over $75. I've included it here because I mentioned it in my popular frugal-living post, and it earns me $5 every time someone signs up with my link. So it's blog income in one way or another! You can get a $10 credit when you sign up, then earn and buy yourself gift cards.
Share-A-Sale: $1.50 – This is an affiliate network, and I've so far failed to do anything but generate leads for my various programs. I'm a part of about ten programs, but I'm not too focused on sales right now – things are kind of just sitting there!
InfoLinks: $0.31 – One of my "backup" ad networks. I have removed most of their ads but you might still see a few.
Media.net: $0.43 – Another backup ad network. You'll only see these ads when Amazon's aren't working or they can't find a good match for the viewer.
Activate $4.16 – This influencer network used to be Sverve, which I loved. Since this became part of Bloglovin,' I've rarely seen opportunities for more than a sponsored Tweet or two. Still, I do the occasional Tweet for them.
The Grove Collaborative – $8 – This is a great company featuring safe, eco-friendly household products that I actually use. I've kind of been testing their program, and so far my readers have said, "Mehhh," to it. If you're interested in making the switch to natural products, however, I wrote this post about why I use them.
Total: $271.22
If you're new to the blog, you may be wondering how these numbers compare to what I was making before I took a break. In July of this year, I made about $475 on this blog. That was with about 28,000 page views. April was the first full month of this blog, so if you consider that, growth was quite rapid.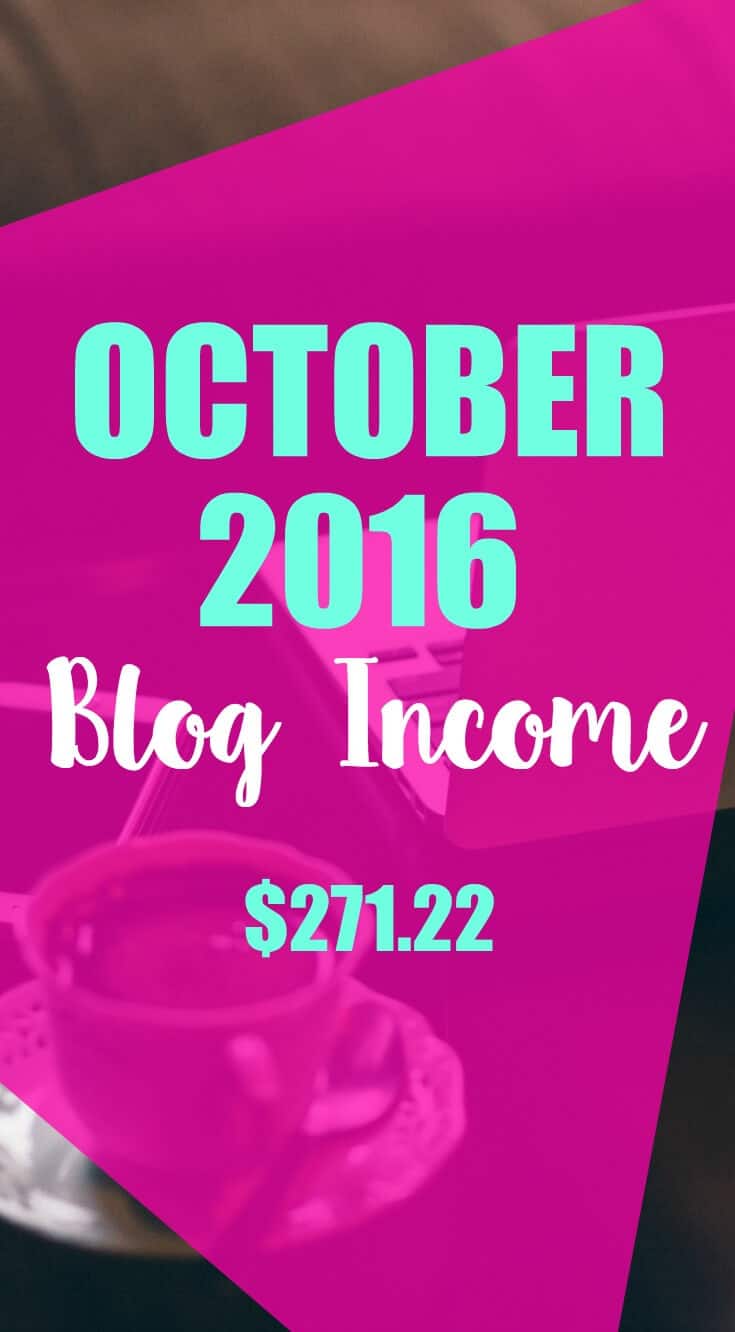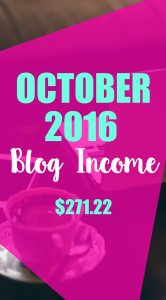 Goals for November:
I try not to be too stuck on numbers as a casual blogger (I like to come and go as I please) because I feel like that is the beauty of blogging – not being a slave to it! So most months my only goals are to surpass what I made the previous month. The same goes for page views.
I did have big plans to come out with a mom-blog planner this month, but I soon realized that it was beyond my design skills. I also wanted to release a course, but I'm finding that until I have my page views and email list at a higher number, it's probably best to hold off on that.
So for November, I'd simply like to get back on track with page views and income by seeing an increase.
Plan of action:
Keep working on getting more mama bloggers in my Facebook group.
Keep pinning consistently – I finally broke down and paid for a year of Tailwind because it's just that important.
Keep posting on all other social media platforms. I've been playing with FlipBoard and am seeing a few referrals there.
Keep cranking out content for another "test" month similar to this one. I'm kind of just waiting for things to pick up a little more before I role out any big plans. I'm sure that with the new year upon us, I'll find more motivation!
That's all she wrote!