When you're searching around for a web hosting company to host your site, it can be a little overwhelming. You don't want to have to worry about the issues that could arise with your host – you just want to get started working on your blog! Right?!
Perfect Hosting – I found it!
As many of you know, I found the perfect hosting package with SiteGround.
They are who I use to purchase all of my domain names and they are the company that hosts my site and keeps it up and running.
I say perfect because SiteGround is easy to use and my site has never been down.
That might not seem like a big deal, but when you compare it to other hosting services I've used, it REALLY is!
When you're a new blogger, the whole thing can be a bit overwhelming.
I remember the first time I bought a domain name and wanted to start a website. I was SO confused and overwhelmed with the process, that I quit all attempts to start a website entirely.
But it wasn't really my fault – how was I supposed to know what to do? The support tickets I put in to my hosting company got me nowhere, and I had no clue that I needed to install a website builder on top of purchasing a domain name and hosting package.
Looking back, I have to laugh at how clueless I really was.
But to be completely honest, when I started blogging this last time around, not knowing what to do was only one of my hurdles.
When you're part of a family living on one income (like me), spending money to start a blog can feel a little uncomfortable.
In my case, I had to save and plan for my hosting package. At that time, I couldn't just buy a domain name and a whole year of hosting as soon as I knew I wanted to blog.
Nope, I had to budget it in.
If that's you right now, I totally get it! I feel for new bloggers and people who want to start a blog. I also feel for people who want to switch hosting companies after having a bad experience with their current host.
Host Your Own Blog
I even created a few extensive tutorials on how to start a blog and how to install WordPress once you've purchased your hosting package.
But what's really important for me to share today is that for Black Friday, SiteGround is offering 70% off all of their hosting plans!
This deal is only good through Friday, Nov. 25th – Monday, Nov. 28th!
So if you've been hesitant – or waiting for a sale – this is the time to get going!
My suggestion is that if you've been wanting to start a blog, you snag your perfect hosting package and domain name now, and get ready to launch your fab blog by the new year. It's going to be a great year!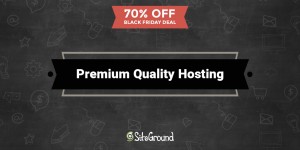 Happy blogging,

Affiliate links provided.