A Girl, Her Blog, and a $40,000+ a Month Income
One of the best way to get the motivation to start something is to find inspiration in others who have already walked the walk. In this post and my next two, I will be featuring and doing exposés on three mom bloggers who have created wonderful blogs that earn huge monthly income. I hope you enjoy this post and that it motivates you to start your own blog!
Do you have any hobbies? Have you ever considered creating a blog about them just to kill time? What if I told you your fun little writing project could end up earning you close to half a million dollars a year? You might think I was crazy, but that's exactly what Abby Lawson managed to accomplish with her site "Just a Girl and Her Blog."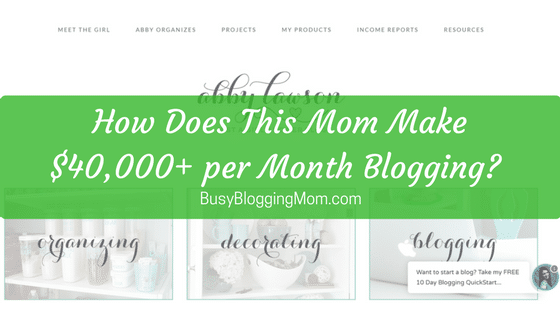 Why Abby Started a Blog
When Abby first began blogging, she was a stay-at-home mom to two boys, Connor and Caleb. As many young mothers who stop working to spend more time raising their children experience, Abby found herself in need of an outlet to reclaim some of her own personal identity. She had always had a fondness for home organization and for writing, so she came up with the idea of dedicating a blog to her projects. She nervously presented this idea to her husband, Donnie, at their wedding anniversary. Donnie not only agreed that it would be a great creative outlet for Abby, but he even volunteered to set up the technical side of blog creation for her. A few days later, Abby came up with what she considered to be a clever yet open-ended name for her blog: "Just a Girl and Her Blog."
Abby got to work. In the beginning, she would stick to simple projects around the house that she could photograph and write short posts about. She joined several "link parties" where fellow bloggers would gather to discuss their craft and comment one each others' creations. From there, Abby's interest in blogging blossomed into a passion, and she began to take her research into the process much more seriously. Earlier on, most of the traffic "Just a Girl and Her Blog" received came from people who knew Abby personally, but her venture hit a turning point in March of 2013 with her post entitled How to Make Pretty Labels in Microsoft Word. Abby Lawson's creative endeavors had gone viral, and her blog was beginning to see some serious levels of traffic.
How Abby Started Earning Money with her Blog
From there, Abby's blog began to gain more and more traction, and her husband became more and more directly involved in the creative process. In February of 2014, little more than a year after the blog's inception, Donnie Lawson published a post about a paperless system he had been using to keep the family's files organized. This post sparked a unique interest within the home-decor community as it covered a topic not many other bloggers had touched upon yet. Donnie had included affiliate links in his post to a few scanners as well as an eBook about the program Evernote. In a surprising twist of events for the married couple, "Just a Girl and Her Blog" managed to make upwards of $500 in affiliate sales from the links provided by Donnie in his post.
The unexpected income generated from Donnie's first direct contribution to the blog writing marked a shift in perspective for the couple. "Just a Girl and Her Blog" was no longer merely a fun hobby for Abby; it was now a business venture to be properly manicured and monetized. Donnie began tracking the income the blog had been generating and publishing monthly reports, which prompted many to email Abby with their own blogging questions. Donnie recommended Abby write an eBook about her knowledge and experiences and, after a considerable amount of prodding, Abby agreed. A few months later, Abby and Donnie launched Building a Framework. The two utilized a "pay what you want" pricing model for the work, inspired in part by Abby's lack of confidence of the eBook's potential commercial success. In yet another twist of fate, however, the book sold hundreds of copies on its very first day and prompted a slough of emails thanking Abby for her contribution to the blogging community.
Abby's hobby was now a full-fledged profession. She continued to learn everything she could about blogging and to research her craft to the fullest. She and her husband took business courses through Fizzle.co, and Donnie even won a contest in the beginning 2015 to join a group led by three of the site's top business coaches. Later that month, he lost his job in the oil and gas business, thus "Just a Girl and Her Blog" became the family's sole source of income. By April of 2015, Donnie and Abby had published two more eBooks: Simplify and The Paperless Home. Both were rousing commercial successes which brought the family more income stability. In June of 2015, Abby Lawson released an updated version of her very first eBook. Building a Framework: The Ultimate Blogging Handbook became yet another successful endeavor, prompting over 40 unique posts from bloggers all over the world on Abby's Facebook page.
The Big Picture
As of December 2016, Abby and Donnie have stopped publishing monthly income reports. They feel as though the intention behind them has been fulfilled, and they don't want to appear as though they're bragging about the insane amount of money their blogging generates. But the numbers speak for themselves. Since the inception of "Just a Girl and Her Blog," Abby and Donnie Lawson have made an incredibly impressive amount of money simply by writing blog posts and eBooks about hobbies they just genuinely enjoy pursuing. More importantly, they've managed to help countless others break into the blogging world and monetize their craft accordingly.
So again, I ask, do you have any hobbies? Have you ever felt any interest in writing about them? Never limit yourself. For all you know, you just might create the next "Just a Girl and Her Blog."
Want to get started it's as simple as: