Building a large following via email should be a key focus for all blogs. A thriving email list allows you to keep in touch with your readers and encourage people to return to your website. It also provides a platform from where you can promote your content and help your blog achieve its goals.
In this article, we will consider the benefits of growing an email list, and discuss some actionable tasks that you can implement on your WordPress website to help you do so. We will look at the importance of using an email service provider, as well as how to add opt-in forms and pop-ups to your site. We will also explain what a lead magnet is and how to create one that will wow your audience. So let's get started…
Why You Should Build an Email List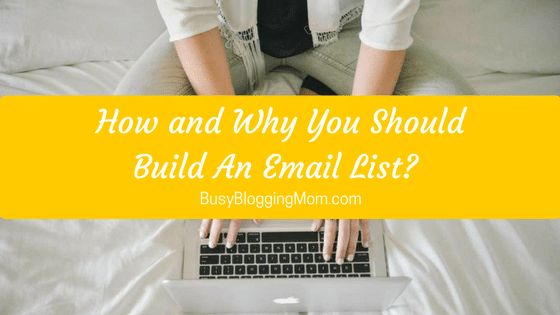 There are many reasons why you should build an email list. Let's have a look at a few of the most important…
Keep in Touch with Your Readers
Building an email list is a great way to keep in touch with your readers. Once they have left your site, you may never see them again. However, if you manage to get them signed up to your email list, then you will be able to reach them off-site, and continue to engage with them.
Create a Community of Regular Returning Visitors
Mailing your readers keeps your site fresh in their minds. Use your emails to keep subscribers up to date with what is happening on your site and remind them of what they are missing. This will encourage people to return to your blog on a regular basis and become established readers.
Promote New Content
A large email list gives you an audience to promote new content to. There is nothing worse than creating great content and then not have visitors to read it.
Email about new content, bringing people back to your site to read it. Depending on how often you publish content, you can send out weekly or monthly emails sharing the most recent blog posts.
Help Your Blog Achieve Its Goals
The aims of your blog will vary over time and often week to week. However, whatever you are focusing on, an email list can be a successful way to help your blog achieve its goals.
If you are running a competition, signing people up to webinars, or looking to sell affiliate products, share this information in emails to your subscribers. Use your mailing list as a platform to reach your target audience and promote your latest objective.
So now we know a bit about WHY you need to build an email list. Now let's look at HOW to build one…
How to Build an Email List
Building an email list is a long term project. But let's look at the first few important stages in the setup…
Select an Email Provider
Signing up with an email service is the first step to building an email list. An email marketing provider will automate your email process, saving you hours of time and effort.
Mailer Lite is a popular free service that will take care of your subscriber's details, provide email templates and designs, automate the sending of bulk emails and marketing campaigns, and much more. Quickly sign up with Mailer Lite, then let them take care of everything else.
Add an Opt-in Form to Your WordPress Website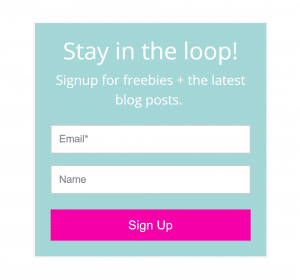 Once you have signed up for an email service, the next step is to add opt-in forms to your WordPress website. These visual forms will encourage your audience to sign up to your mailing list. Place an opt-in form in a prominent position on your homepage, and display one under each blog post to maximize their potential.

Opt-in Forms by FancyThemes is a free WordPress plugin that allows you to add stylish opt-in forms to your blog. Easy to use, simply choose a form design and customize it to suit your site's look. Then add the form to your posts and pages with shortcode and watch your email list grow!
Use Pop-ups to Grow Your Mailing List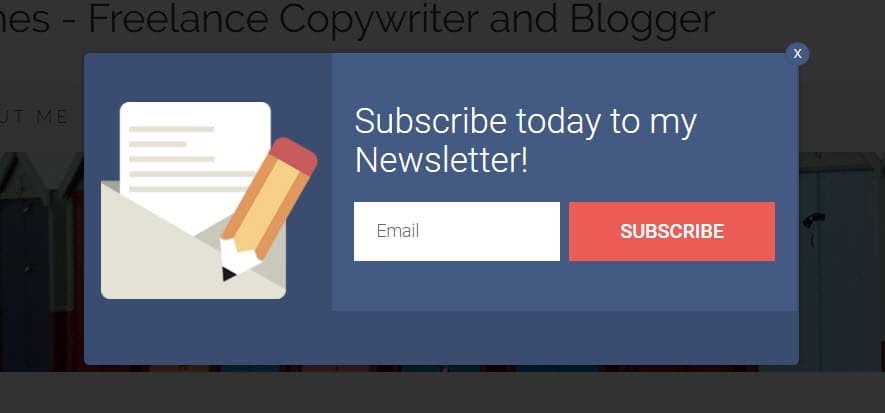 Using a pop-up to grow your mailing list is common practice. A beautiful pop-up can grab your reader's attention and be the push they need to subscribe.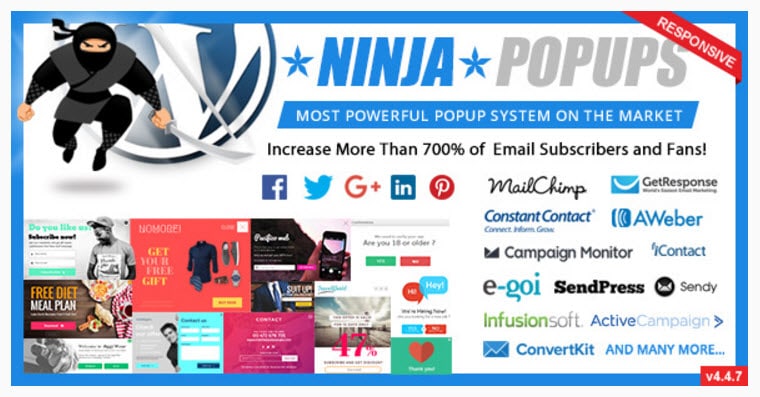 Ninja Popups is a premium WordPress plugin, that enables you to add stunning pop-ups to your site. Select from one of their many designs, and take control over where and when the pop-ups are displayed. Always be careful not to over-use pop-ups, as visitors can find them frustrating. Using exit pop-ups, displayed when someone is leaving the site, would be my recommendation.
Create a Lead Magnet
Once you have set up opt-in forms and pop-ups on your blog, there is still no guarantee your audience will sign up. So creating a lead magnet is a good idea if you are serious about growing your email list.
A lead magnet is a freebie that you offer to your audience in exchange for an email address. Lead magnets basically act as a bribe to incentivize people to subscribe. Lead magnets can come in many forms, from eBooks, an online guide or course, or some other type of digital download, to entry into a competition you are running, or a discount on products that you sell.
Whatever you choose as your lead magnet, make sure it is relevant to your blogging niche and irresistible to your target audience. This will help ensure high sign up levels to your email list.
Ready to Build an Email List?
Building an email list is an exciting task. Once people start to sign up, think carefully about the emails you will send out. In Mailer Lite, setup a welcome email campaign that will be automatically sent to all new subscribers. This should keep your site fresh in their mind, encourage them back to your site, and help turn them into life long visitors.
So now you know what to do, it's time for you to put these tips into practice. Good luck!
What is your experience of creating an email list for your blog? Please share in the comments below…