Today I come to you with blog ideas for beginners. Why?
Because lately I've heard a lot of people say, "Well, I'd start a blog except that I wouldn't know what to write about."
Seriously, I get it. It took me a long time to figure this whole thing out and be brave. I thought about starting a blog long before I actually did. It's normal!
I thought I'd clear it all up for those of you on the fence – you should write about whatever makes you happy!
I truly believe that anyone can blog. I believe that for me, it is a huge opportunity to be able to create my own business and make money while being a stay-at-home mom. And I truly believe that entrepreneurship is the ONLY path to true financial freedom in this world. (Yes, blogging can be a business!)
I feel confident that blogging is MY thing, but I also don't see the point in writing about things you don't love.
I personally love writing, and that has been true for me since a very young age. So coming up with blog ideas was easy for me.
I realize that not everyone is that way. Blogging is wonderful because it allows you to be somewhat less technical and more conversational, but it also allows you to pursue your true hobbies and passions.


In order to be a blogger, you don't have to be the perfect writer, and you can write about anything.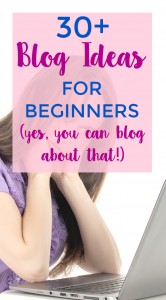 I have personally had a million blog ideas (and have purchased an embarrassing amount of domain names) but keep coming back to writing about moms + entrepreneurship.
Why? Because it's super relevant to my life right now, meaning I'm extra passionate about it.
And why start a blog about something you aren't passionate about? (If you can't see yourself writing on a topic over and over again, I would definitely start looking for other blog ideas!)
I think that a lot of people assume that they wouldn't have success writing about what they truly love.
Many people think, "Who would ever want to read a blog about welding?" or "Who would ever want to read a blog about horses?"
Well friends, luckily the blogging world itself is super supportive of all niches.
But on TOP of that, the more passionate you are about your topics, the more that will shine through to your readers. And honestly, the more specific your blog is, the more likely you are to find very loyal readers (as opposed to casual followers.) The more specialized you are, the more of an authority you become on a subject.
So with that in mind, if you are still in need of blog ideas, take a look at this list and let your imagination take over from there. You can blog about anything you want (and make money) my friends!
If you need help starting a blog, this step-by-step tutorial is just for you.
Blog Ideas for Beginners
You can have a blog about…
Motherhood
Knitting
Gardening
Prepping/Survival
Horses
Painting
Home Decor
DIY/Crafts
Gaming
Music
Upholstery
Homeschooling
Food
Viticulture
Marketing
Home Daycares
Education
Literature
Movies
Fashion/Beauty
Antique Collecting
Baseball
Health/Fitness
Personal Finance
Travel
Photography
Or you can even get SUPER specific and write about things like…
Zelda games
German Shepherds
Paraben – free cosmetics
Selling on Etsy
Italian shoes
Mule deer
Alaska
Baby-led weaning
I know, it got pretty specific there. But I hope you get the point. There are blogs for everything out there!
What to Do if Your Blog Ideas are Super Specific
A lot of people think, "I just don't know if I'd have enough to write about." Don't let that stop you! If you think that your topic is too narrow, consider reaching a wider audience by combining 2-3 relevant topics.
If you write about German Shepherds (I write this as mine is whining for cuddles), consider writing about dog training, and treats, food, and accessories, too. That way you can not only reach German Shepherd owners, but you can reach a wider audience that includes other dog owners.
I personally combine the topics of family, motherhood, and homemaking with blogging and other ways to make and save money.
Why? Because I think there are many women who can benefit from this combination of topics. (Plus, I am a SAHM who would love to make more money from home!)
I target moms who blog, moms who want to earn money from home, and moms who want to stay home but can't, so they need to start saving and earning more money. Those are my more specific targets, but by including frugal-living and parenting topics, I also reach a slightly different demographic, too.
Bigger topics = larger potential audience but potentially less authority
Smaller topics = more authority but smaller potential audience
(You've just gotta find balance!)
Tips for Getting Started
If you're not convinced already, I encourage you to explore existing blogs and to search the term, "blog income report" on Pinterest or Google. You can make money blogging! Otherwise, here are a few tips for getting started:
Write down a few topics that interest you and search for blogs that are focused on those things. See how those bloggers are making it work.
Write down the target market(s) of those topics (who you want to reach) and brainstorm other topics they might like.
Consider your overall goal for starting a blog. Do you want to simply make money? Do you want to quit your day job? Or do you simply want to have a creative outlet?
Here are a few resources you might want to check out:
Also, don't forget that I have an entire resource library full of ebooks, printables, worksheets, and more blog ideas to help you on your blogging journey.