*This post contains affiliate links. If you sign up using my link, I may receive a commission. All opinions are my own.
Have you ever used Inbox Dollars to earn extra money online?
When I became a stay-at-home-mom, I wanted to help my family financially by finding ways to earn extra money online. Leaving my daughter for a traditional day-job just wasn't an option, so I researched a lot of different work-from-home jobs (which felt like a job itself).
I spent hours on end researching how to make easy cash online, and if you've ever done that, you probably came to the same conclusion I did.
It turns out (as some of you may already know), that a lot of online "jobs" are just scams.
Call me silly or naive for bothering to look, but at the time, I was desperate for a way to feel a little more significant and purposeful while at home. (And I just needed cash!)
Today, I have figured out that a good online side hustle is rare, and scams are rampant.
But there are totally legitimate sites that allow you to earn extra money from home.
You have probably heard of consumer surveys (every successful company needs to do market research!), and you might even know someone who does them.
Some people I know do them for fun, but others do them regularly to earn cash online. While survey sites aren't generally lucrative, the amount of money you can make on them is entirely up to you.
Being a stay-at-home-mom, I like to contribute however I can.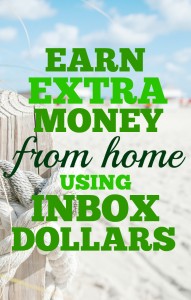 I have joined many consumer survey sites and apps, and so far one of my favorites is Inbox Dollars.
In fact, it is one of only two sites that I still use now that I'm making money blogging.
What sets it apart from a lot of other sites is that there are so many other ways to earn other than by doing surveys.
My personal favorite way to earn is refer new users (like you!) to the site. When others sign up, I receive a commission based on the money new users make. It's a win-win!
Not only this, but if you are doing surveys and don't qualify for a particular survey, you are still compensated for your time in the form of Spin & Wins. You can use these to "play" Billy's Spin & Win, on which you can earn sweepstakes entries, cash, or survey tokens.
(Feeling like I was losing my time and not being recognized for my efforts on other sites is what made me stop using those sites.)
Here's what my dashboard looks like on Inbox Dollars: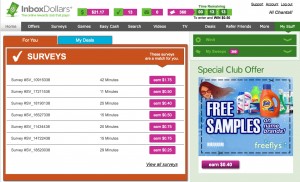 As you can see, there are a LOT of different ways to earn extra money on this site. Here's a short list of just a few of the ways you can earn on Inbox Dollars:
Cash Searches – Searching and surfing the web like you might do on Google.
Playing games (I like the casino-style ones!)
Signing up for offers – this can be signing up for a magazine subscription, a life insurance quote, you name it.
Watching and interacting with short videos.
Cash tasks – You do stuff on the web (like user testing) and earn
Paid emails – You click on an email, and you get $.02, easy!
TV! – This is a new feature. Get paid to watch TV commercials! So easy.
One other thing I have to mention is that Inbox Dollars features printable coupons for everyday household goods. They've partnered with companies so that when you redeem your coupons, you earn with Inbox Dollars. How cool is that? You save money with your coupon AND make money online at the same time! (Combine that with your iBotta hustle and save BIG!)
But I have to admit, I spend most of my time on surveys and with paid emails (because they are so easy). My absolute favorite surveys are music surveys, where I listen to short snippets of songs and give my opinion for local radio stations.
I also love that my survey dashboard often tells me what topic a survey is about, and roughly how much time is required, like this: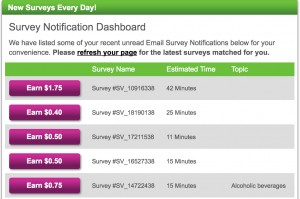 Note: Most of the time, I find that I can finish a survey in less than the time my survey dashboard says to allow for.
I enjoy doing surveys to earn when I'm bored, can't sleep, or am wanting to take a break from the blog. However, because surveys can be time-sensitive, I sometimes miss the time frame I needed to have participated in a survey. When that happens (or if I'm disqualified for any other reason), I still earn Spin & Wins, which allow me to earn sweepstakes entries, cash, or survey tokens. Those allow me to make extra cash on my next completed survey.
I have to admit that I totally love playing and love earning sweeps and little bits of extra money. I also really love winning survey tokens because they add to my time spent on surveys (they give you extra cash for completion of surveys).
What can I spend my sweeps on?
You can spend your sweeps on gift cards to various retailers or bonus cash credited to your account. I usually go for the cash or Target gift cards. I love that I don't have to have a ridiculous amount of sweeps in order to enter something (some sweepstakes entries only cost one sweep!). But sometimes I earn over 100 sweeps in a day!
How much money can I earn on Inbox Dollars?
That's up to you! Some weeks I don't do anything on , and other weeks I spend a few hours working on it. Since I'm not dedicated to using the site daily, it usually takes me an entire month to meet the $30 threshold. My last check from them was $35.24.
You can start earning extra money right away!
There isn't some application or waiting period to join Inbox Dollars — you can join today, confirm your email address, and get started filling out your profile surveys. These are what will get you matched with appropriate consumer surveys (and yes, you earn for completing those!)
Go get started!

If you want to know how else I'm making money online, be sure to follow me on Facebook.