Awhile back, I shared my list of great gifts for bloggers and you all loved it!
So today I decided to write an updated version on that very list based on what I've learned since.
Note: This post contains affiliate links. If you purchase something from these links, I may receive a commission at no extra cost to you. Thank you!
I think that a lot of us want to be entrepreneurs (if we aren't already), but we're still hesitant to make investments and celebrate small wins along the way.
Luckily, blogging is among one of the cheapest (if not THE cheapest) businesses to start. At less than $150 for startup, I'd say it's definitely a worthwhile investment when you consider that the average brick-and-mortar business costs $30,000 to start. (That stat is from the SBA.)
However, I understand that many of us start a blog because we are looking for new ways to add to our income, and we are slowly plugging away at that dream of financial freedom. For a lot of us, that start up cost is a chunk of money that could have easily been put toward bills, groceries, and any number of other things.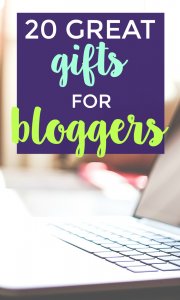 The point is that I totally understand that $150 is nothing for some – and everything for others.
But once you start making money with your blog, you might find yourself saying, "Why didn't I do this sooner?" I find myself saying that with various blogging tools and investments, and my list of investments to make is still long.
And that's the exact attitude I have when making blog purchases – they are all investments! The more I spend, the more growth I have – that's just how business works.
There are things that I want for my business – they might be fun or helpful to have – and there are things that I truly feel I need. (At the top of my list right now is pro web design + branding.)
I know that a lot of bloggers are in a similar position – most don't start out investing thousands in their blogs – and they too have a long list of wants and needs. So I decided to split this list up based on cost so that bloggers at all levels can treat themselves or make those much needed investments. Feel free to share this list of gifts for bloggers with your friends, family, and your blogging friends. 🙂
Big Gifts for Bloggers ($150+)
Medium Gifts for Bloggers ($50-150)
Small Gifts for Bloggers (up to $50)
That's it! I hope that you are able to make the investments you feel necessary for your blog this year. Make it easier by sharing this list of gifts for bloggers with your friends and family!
What are your favorite gifts for bloggers? What's at the top of your list?
Happy blogging!