Divi vs Avada are two extremely popular multi-purpose WordPress themes that are both great options for those looking to start their own website. Divi, from Elegant Themes, is a widely popular theme. And Avada, from ThemeFusion, is recently celebrating its 5th consecutive year as the best selling theme on ThemeForest. But the question is, which theme is best for YOUR project?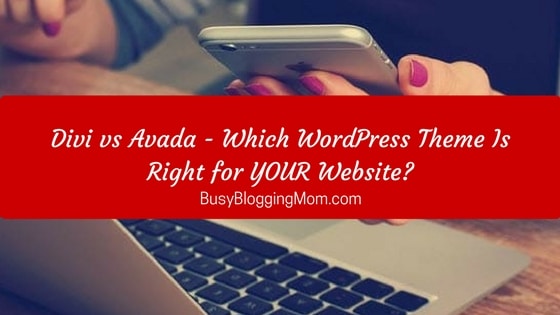 In this article, we will consider the pros and cons of both Divi vs Avada. We will look at the tools and functionalities they offer, including page builders, design elements, and pre-built demos and layouts, as well as support and pricing. We will then discuss how these features compare, helping you to make an informed decision on which theme is right for you.
Divi vs Avada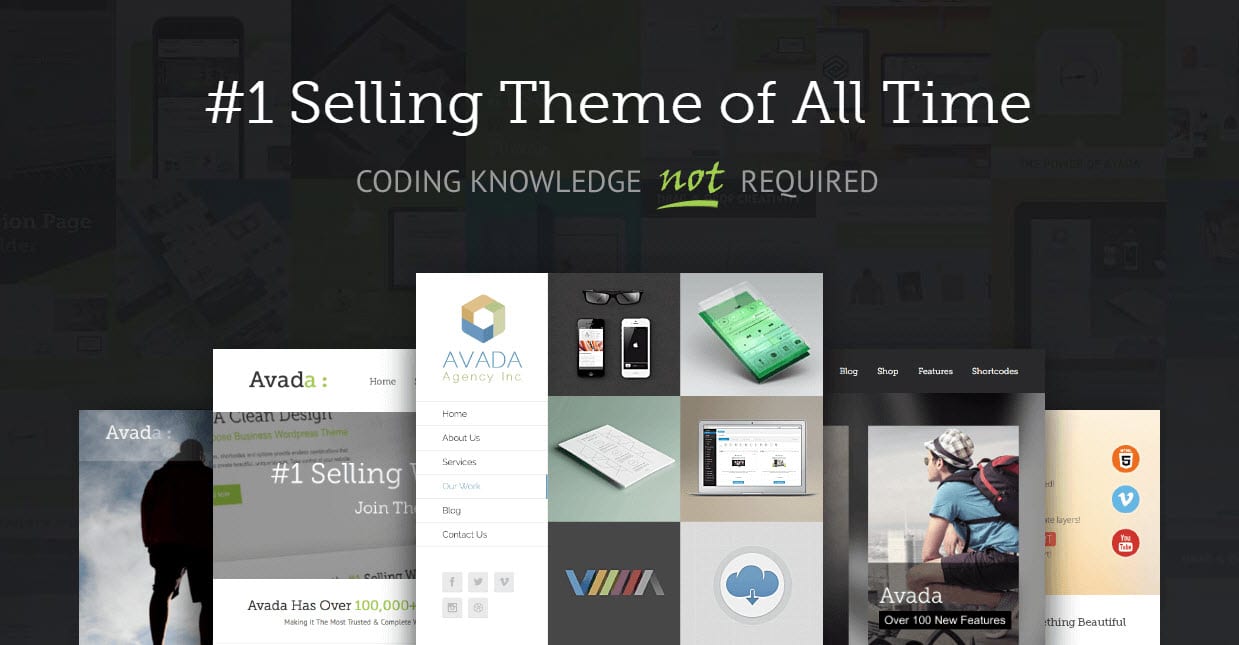 Divi and Avada are both incredibly feature-rich multi-purpose themes that can be used to design any type of website. So whether you are wanting to create a beautiful blog, professional portfolio site, a highly optimized eCommerce store, or something else, you can make it happen using either of these themes. Let's now have a look at some of the key features that these two themes offer and see how they compare…
Page Builders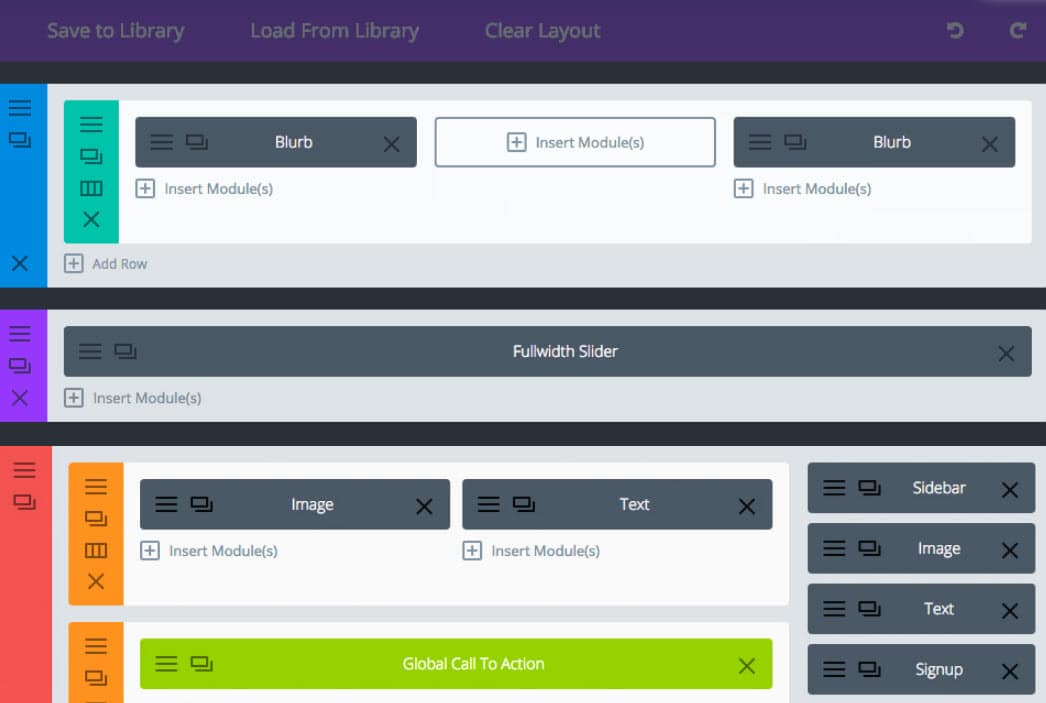 Divi is powered by the Divi Builder, a front and back end drag-and-drop page builder that will give you total control over the customization of your website. Using the Divi Builder you can create your own custom layouts for both posts and pages, all on the live front end of your site. Therefore, you can view the changes as you make them. This makes the design process quicker, easier, and definitely a more enjoyable challenge.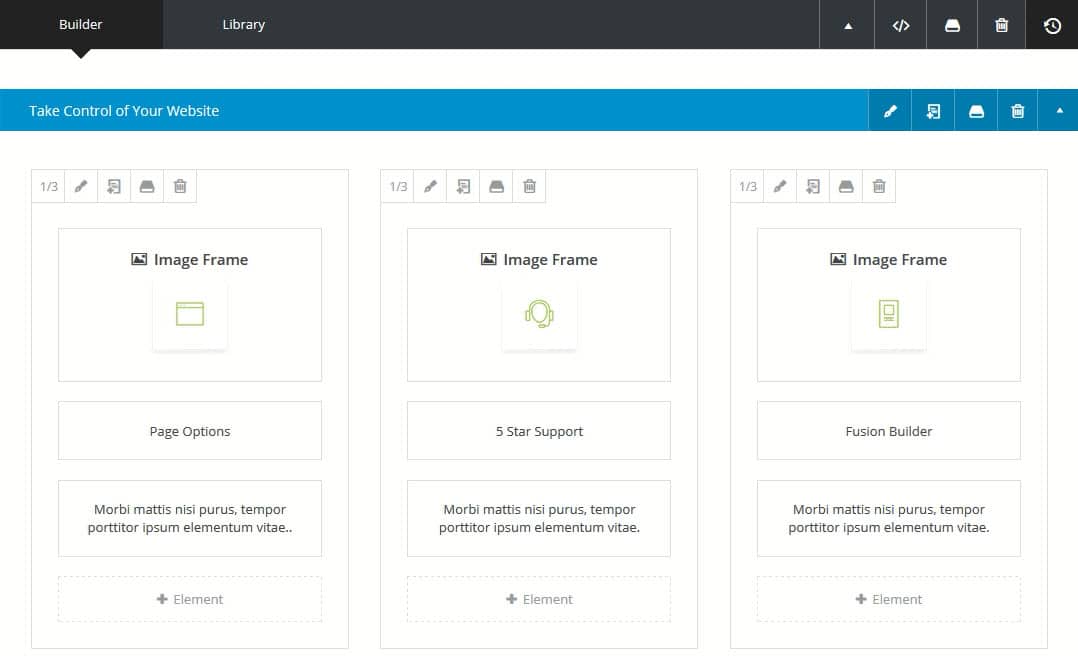 Fusion Builder is Avada's own page builder. This is another drag and drop editor that allows you to create beautiful pages. Design elements can be moved around the screen quickly at the touch of a mouse, and the creation process is on the whole more intuitive than the Divi Builder. However, for now, the Fusion Builder remains a back-end only tool. This means that those wanting to customize their site in real time on the live side will be disappointed.
Design Elements

Divi comes with 46 content elements that you can use on your site. Mix and match these elements by simply dragging and dropping them on a page. Each element is fully customizable, enabling you to adjust colors, fonts, sizing, and more. All without having to touch a line of code, unless you want to.
Fusion boasts over 50 design elements, along with hundreds of customization options. This gives you extensive control over your content and styling. However, although the Fusion Builder offers an extremely user-friendly service, there is no doubt that it can't compete with the flexibility and unlimited design possibilities that the Divi Builder provides.
Pre-Built Demos and Layouts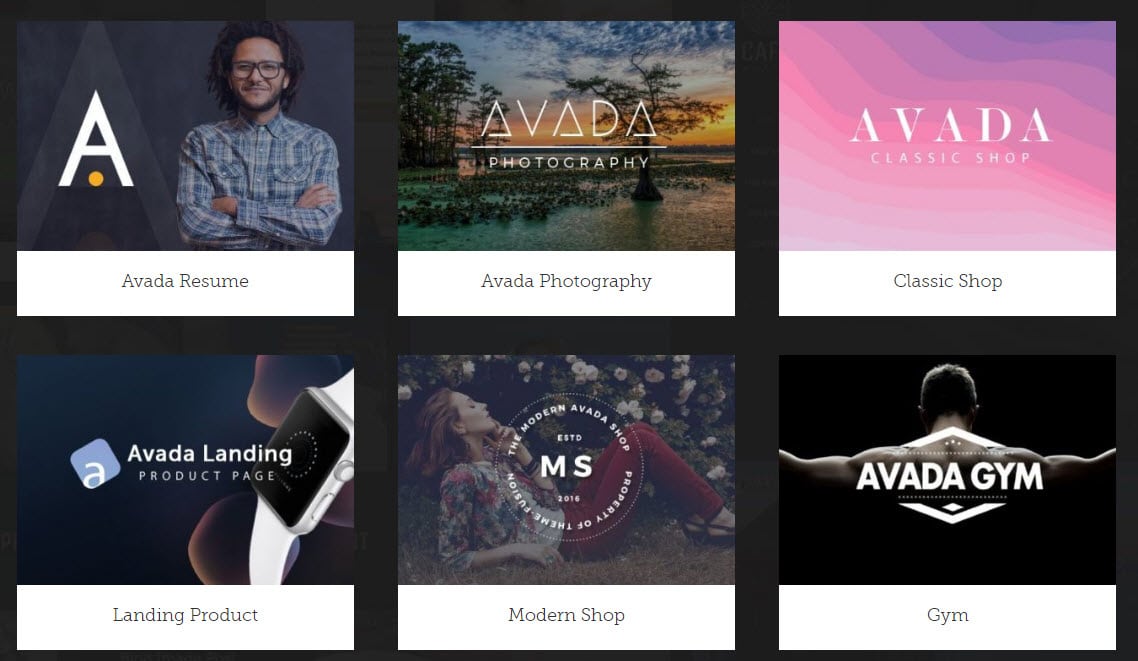 The pre-built demos provided with Avada is where this theme really shines. Avada provides a large collection of demo websites, that can all be easily installed with just one click. You can then quickly add your own content and your website is immediately up and running and ready to go.
Avada offers 30 demos and is constantly adding more. These include photography, gym, daycare, health, travel, fashion and numerous shop demo websites, to name a few. So if one of these demos is inline with your project, and you want a website that doesn't take long to put together, then Avada is a great choice.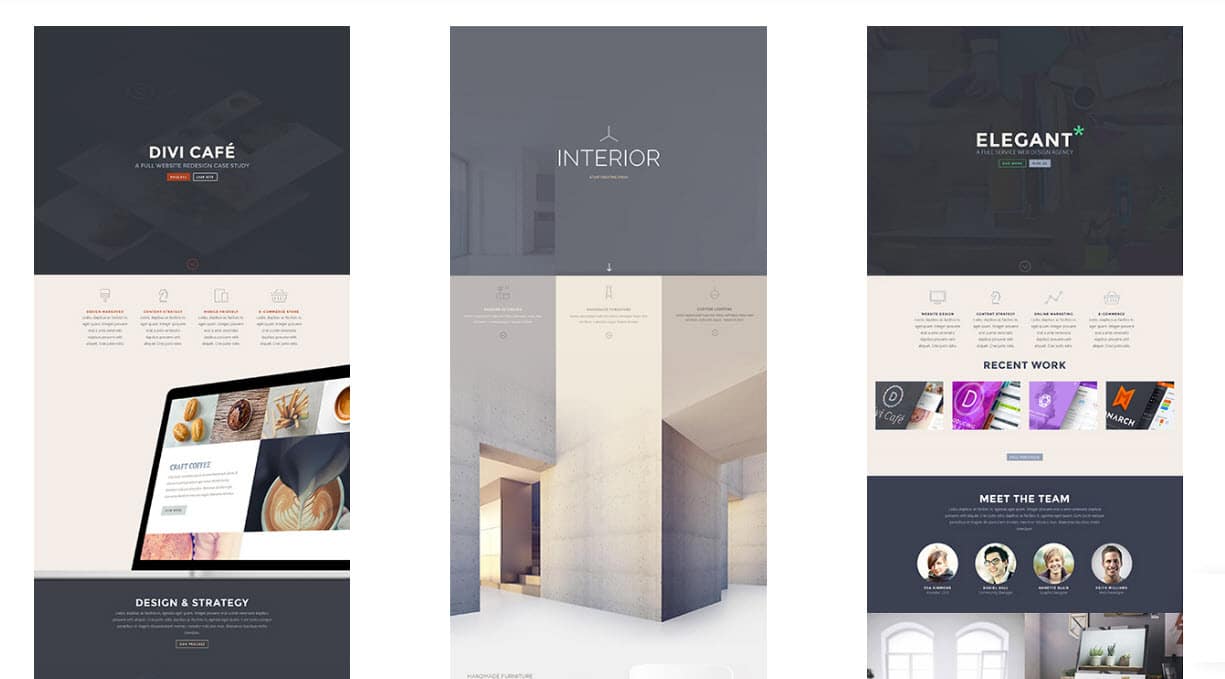 Divi provides over 20 pre-built layouts, that ship with the page builder, to help you get started with your website. Elegant Themes are also in the process of releasing layout packs for a variety of website types. These packs include numerous pre-built layouts for different pages. For example, their most recent release (at time of publishing this article) is a collection of page layouts for travel websites, including a homepage, landing page, contact, shop and blog page, and more.
The release of these layouts is to ensure that all Divi users, even those with minimal design experience, have enough pre-built content and design elements to create stunning sites. However, even with these pre-built pages, the customization of content elements on each page will still be necessary. This makes Divi a better option for those looking forward to spending time designing and creating a totally unique website.
Libraries
Both the Divi and Avada WordPress themes have impressive library services. The libraries provided allow you to save any custom modules or layouts you have created. You can then reuse these collections at a later date, or in a different project. This is a great way to build up a bank of your favorite modules. And it will save you the time and effort of recreating combinations of elements.
Support
Divi comes with extensive documentation, support forums, online help, and a strong community of followers and experts all on hand to offer advice. It is also constantly being added to and improved by the developers, keeping it ahead of the field of WordPress themes.
Avada equally comes with a thorough documentation, videos, and hands-on support. The theme is also being constantly updated and upgraded, helping it continue its reign as the number one best seller on ThemeForest. However, if you are looking for a vibrant community, with like-minded designers and developers, then you will find this from Elegant Themes.
Extras
A Divi extra that is well worth mentioning is the Divi Leads tool. This is a split testing tool makes it simple to test different content and design elements. These insights will enable you to understand what appeals to your audience and how to make your website convert against its goals.
Avada, on the other hand, offers the Revolution Slider, Layer Slider, Elastic Slider, and Fusion Slider, all included with the theme. These plugins would cost over $40 if purchased separately. If you are wanting to add eye-catching slideshows to your website, these are ideal tools.
Pricing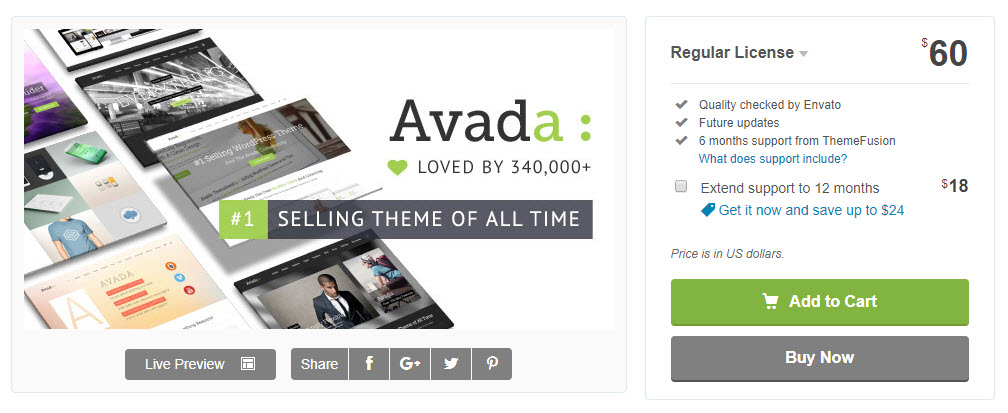 Avada can be bought from ThemeForest for $60, and comes with six months support from ThemeFusion. The license includes free lifetime updates of Avada but restricts you to installing the theme on one website only. However, Avada includes all the demos, features, tools and plugins mentioned in this article, so no extra purchases should be necessary, unless the needs of your site grow. There is also the option of purchasing Envato hosting from $16 a month. This includes theme setup, WordPress support from Envato, and much more.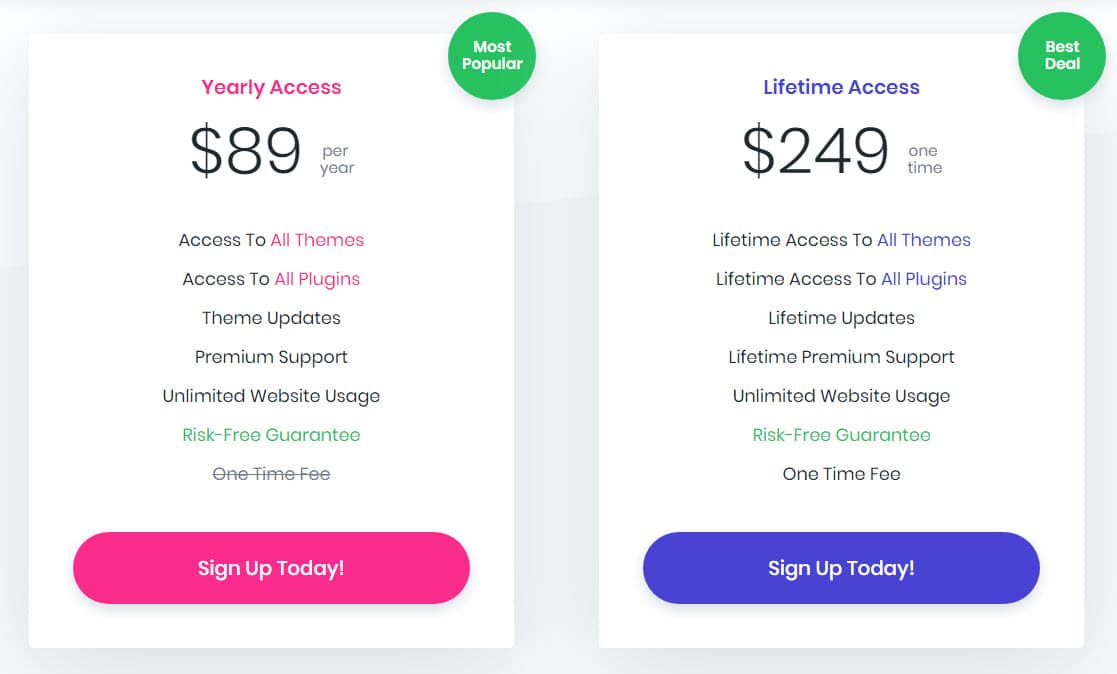 Divi comes at a higher price of $89, which is a yearly recurring fee if you want continued access to updates and upgrades. However, with this package, you also get unlimited access to all Elegant Themes plugins and other themes. Not to mention the Elegant Themes' premium support. Divi can also be used on as many websites as you need. This makes it an ideal choice for those with more than one website. Elegant Themes also offers a Lifetime Access package. This gives you lifetime access all the previously mentioned features as well as lifetime updates and support. Therefore, although Divi is the more expensive option, it is definitely better value for money.
Divi vs Avada – Which One Should You Choose?
Both the Divi and Avada WordPress themes are excellent choices. Whichever one you opt for you will be able to create a beautiful, stylish and professional website that suits your niche. However, for those will little to no design experience, or lacking in a creative streak, Avada is probably the better option for you. Equally, if you are short on time and need your website to go live ASAP, then Avada, with its 30 demo websites ready to install, is the perfect choice.
That said, Divi has by far the superior page builder and customization options. Although it may take a little learning, once you have got to grips with this theme and its tools, you will be able to take full control of your website. Ideal for those creatives out there who love designing, Divi will enable you to create a website to your exact specifications.
So, now it's over to you! Which WordPress theme will you choose?
Any questions about either of these themes? Feel free to ask in the comments below.