As we enter the holiday season, I know that thousands of families are looking for frugal ways to celebrate.
The holidays don't have to break the bank, and they shouldn't put tons of financial stress on families. A lot of people start planning for the holidays several months in advance, and some even keep a holiday savings throughout the entire year. But if your family is unable to do this, have no fear:
There are always fun and cheap ways to celebrate and get into the holiday spirit.
Note: This post contains affiliate links.
As part of a newly established family (four years!) that is working to make financial improvements each year, I have been working little by little to add to our Christmas traditions.
From decorations to fun meals and activities, we are slowly developing our own traditions for this time of year. As time goes on, I hope to focus on the quality time spent with family instead of big spending.
So today I come to you with a fun countdown to Christmas – with an emphasis on cheap or free activities to help you get in the holiday spirit.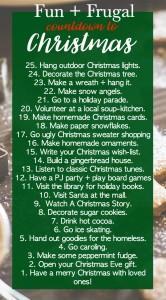 The Fun and Frugal Countdown to Christmas
25. Hang outdoor Christmas lights. If you invest in a good set of lights, you should only have to buy replacement bulbs every so often.
24. Decorate the Christmas Tree
. Find ornaments at thrift stores or find unique ones online.
23. Make a wreath + hang it. If you have a Christmas tree farm near you, you can probably get free branches from cuttings. You'll need some wire and maybe some ribbon for decoration.
22. Find some snow + make snow angels.
21. Go to a holiday parade. Here's a big list.
20. Volunteer at a local soup-kitchen, homeless shelter, or food bank.
19. Make + send homemade Christmas cards. I love keeping cute cardstock around for card making.
18. Make paper snowflakes to decorate with. Regular white printer paper or construction paper works fine.
17. Go ugly Christmas sweater shopping at thrift stores, or decorate your own sweater (there's a kit).
16. Make + decorate homemade ornaments to add to the tree.
15. Write your Christmas wish-list. Here's some cute Santa paper with matching envelopes for the kids.
14. Build a gingerbread house (or use graham crackers). Here's a popular kit from Wilton.
13. Listen to classic Christmas tunes. If you still listen to CDs, this one is a classic.
12. Have a PJ party + play board games. If you don't already have Monopoly, you'll want it for winter storms, too.
11. Visit the library for holiday-related books. You can also find popular ones (like The Polar Express) to keep on Amazon.
10. Visit Santa at the mall.
9. Watch A Christmas Story (or other holiday movie).
8. Decorate sugar cookies. Here are some fun Christmas cookie cutters.
7. Drink hot cocoa + cuddle up with a good book. We love peppermint hot cocoa this time of year.
6. Go ice skating.
5. Hand out goodie bags for the homeless.
4. Go caroling with your local church or non-profit.
3. Make some peppermint fudge. I just use chocolate chips, sweetened condensed milk, and peppermint extract. This peppermint-Oreo recipe looks delicious, though.
2. Open your Christmas Eve gift.
1. Have a merry Christmas with loved ones!
That's it! Enjoy the countdown to Christmas!
Do you have more fun and frugal ideas for the holidays or families? Please leave me a comment and let me know!

Here are some other posts you might like: