It's that time of year again.
Time for vanilla hazelnut scones!
Psst! If you're new here, this is blog is where I share how I'm making money online. You can start your own money-making blog with the help of this post.
When fall is upon us, I always find myself Pinning recipes like crazy. When the weather turns bad, I'm always ready to bake up a storm!
Last year, I was experimenting with scones recipes and I decided to combine a few recipes I liked with some of my favorite ingredients. I had just received a HUGE bag of hazelnuts (or chestnuts) this time last year and I decided to see how they would taste in some traditional scones.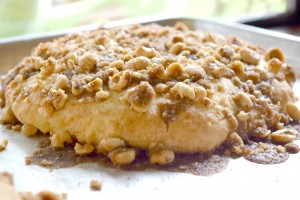 Note: When I was playing with scones recipes, one of the originals that helped me create this recipe was the Brown Eye'd Baker's Chocolate Chip Scones recipe.
In this particular recipe (which goes great with a cup of coffee and a book!), I use Coffee-Mate Hazelnut coffee creamer and Greek yogurt as a replacement for heavy cream, and it makes the scones a little bit more moist than traditional scones, but I loved the almost muffin-like texture that resulted. Plus, because I use fat-free Greek yogurt, these scones are lighter in fat.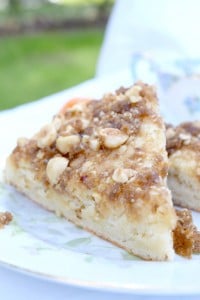 If you're into the dryer, more traditional scones, simply use powdered creamer, hazelnut extract, or forget about the hazelnut other than for toppings. 🙂

[yumprint-recipe id='1′]New to baking? For this recipe, I used my KitchenAid Mixer and Calphalon cookie sheet.
Thanks for reading! Enjoy!